Delivers an easy-to-use, end-to-end security solution for mobile voice calls
Wireless Enterprise Symposium, Orlando, Florida: - May 5th 2009: Cellcrypt (www.cellcrypt.com), the leading provider of secure mobile voice calling, today announced that Cellcrypt Mobile is available now for BlackBerry® smartphones.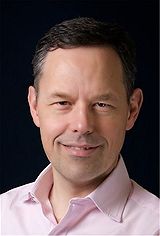 Simon Bransfield-Garth
Cellcrypt Mobile introduces end-to-end real-time encryption to prevent private conversations from being compromised, enabling individuals within corporations and governments to converse in a highly secure manner without the need for specialised equipment or the expense of new infrastructure.
"Business users routinely protect their valuable documents and data using encryption technologies," said Simon Bransfield-Garth, CEO of Cellcrypt. "But they have not previously been able to place that same level of protection on their mobile voice calls. Now, with Cellcrypt Mobile they can."
 
"More and more enterprises are following the lead of Government agencies in seeking ways to securely protect voice calls," continued Simon Bransfield-Garth. "Enterprises in particular understand that certain mobile voice conversations are susceptible to interception, especially if those calls contain high-value information or take place in high-risk regions."
Cellcrypt uses the latest Internet technology to provide unmatched voice call quality, international calling capability, high reliability across wireless networks and real-time encryption to levels specified by the US government. Cellcrypt technology is currently undergoing certification to the FIPS 140-2 standard approved by the US National Institute of Standards and Technology (NIST), and operates on all major wireless networks including 2G (GSM/GPRS/EDGE), 3G (HSPA, CDMA/EV-DO) and Wi-Fi® networks.
"Voice is the last unsecured data service," commented Jeremy Green, Practice Leader Mobile, at industry analyst Ovum.  "Security of mobile devices is a hot topic in the industry, and up until now, high security voice calling has only been available using specialized military-specification equipment, but solutions from companies such as Cellcrypt make this easily accessible to all."
Cellcrypt operates with an easy-to-use interface on commercially available BlackBerry smartphones and does not require specialized equipment. Cellcrypt users will be able to benefit from the end-to-end security of their mobile voice calls, along with all the features of their BlackBerry smartphone.
Cellcrypt recently announced that it has opened a US office in Palo Alto, California to meet the growing demand for encrypted voice solutions from its North American customers.
Cellcrypt will be demonstrating Cellcrypt Mobile for BlackBerry live in the Solutions Showcase at Wireless Enterprise Symposium, Orlando 5th – 7th May 2009.
# ends #
About Cellcrypt
Cellcrypt Ltd is the leader in personal secure voice communications. Cellcrypt's secure IP-based technologies address the need of enterprises and governments for easy to manage yet robust privacy and voice encryption. Cellcrypt's solutions are being used by governments and senior level executives, in some of the world's largest and best known organisations world-wide.
Cellcrypt's software solutions secure voice calls from cell phones and PBXs, using DH 2048 bit and AES 256 bit encryption, without degradation of call quality or affecting user experience and currently support GPRS, EDGE, 3G, EV-DO and Wi-Fi. Cellcrypt Ltd is a privately held company based in London, UK with offices in the UK, USA and Africa
For more information please visit: www.cellcrypt.com 
Press Contact:
Patrick Smith, Joshua PR
Tel: + 44 (0) 7734 600553
Email: patrick.smith@joshuapr.com
John Sacke, Sacke & Associates Inc.
Tel: 416.493.5723
Email: johns@sackepr.com
The BlackBerry and RIM families of related marks, images and symbols are the exclusive properties and trademarks of Research In Motion Limited. Wi-Fi is a registered trademark of the Wi-Fi Alliance.