Precise timing synchronisation for high-performance networks is now improved as HUBER+SUHNER launches enhancements to the world's first truly copper-free fiber powered link.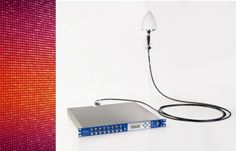 The HUBER+SUHNER Global Navigation Satellite System (GNSS) and Power-over-Fiber solution brings pre-, during, and post installation benefits to telecommunications providers working in the 5G and data center space. Using fiber optics as a means of power for the antenna brings cost and timing savings during installation and operation, as no power distribution is needed on a building's roof.
"As the volume of data and transfer speeds continue to increase, so too does the requirement for accurate time synchronisation, with GNSS timing signals in use within many applications, from data centers to central offices" says Product manager Dominik Tibolla at HUBER +SUHNER. "Using the GNSS signal from satellites enables the acquisition of precise and accessible timing information from atomic clocks, whilst combining this with the distribution over fiber, lower attenuation over longer distances is enabled."
Traditionally, power is carried over copper technology with a GNSS antenna. This often requires a power cable to be attached alongside the signal distribution cable. The GNSS and Power-over-Fiber solution from HUBER+SUHNER eliminates the need for a separate power cable by utilising the fiber optic connection to the antenna as a means of power and signal distribution.
GNSS and Power-over-Fiber solutions go beyond where existing technology could reach. It enables an increased distance of a few kilometers between source and receiver system, compared to a few meters previously. Satellite signals cannot usually reach indoor locations due to the blocking effect of the building structure but combining this with fiber distribution internally, the HUBER+SUHNER GNSS and Power-over-Fiber solution distributes the GNSS signals to all corners of a building interior, providing a more secure, reliable, and flexible connection.
Using the fiber as a means of power distribution also offers unlimited safe and secure timing signal reference distribution, with reduced interference. Providers can also take advantage of its ability to make use of existing infrastructure, by only having to pay for what is used within the network and being 'future-proof ready', with easy and flexible expansion opportunities.
The GNSS and Power-over-Fiber solution will be on show at the OFC exhibition in San Diego 7th-9th March 2023. Visit HUBER+SUHNER at booth #5608 to hear directly from technical experts on the multitude of benefits this solution brings to the market.
-ENDS-
More to explore
For more information about GNSS and Power over Fiber, please visit the HUBER+SUHNER website - https://www.hubersuhner.com/en/products-en/radio-frequency/rf-over-fiber-series/direct-gps-over-fiber/gnss-and-power-over-fiber
Contact
Trade media
Proactive International PR
hubersuhner@proactive-pr.com
HUBER+SUHNER
Jim Mack
pressoffice@hubersuhner.com
HUBER+SUHNER Group
The globally active Swiss company HUBER+SUHNER develops and produces components and system solutions for electrical and optical connectivity. The company serves the three main markets Industry, Communication and Transportation with applications from the three technologies of radio frequency, fiber optics and low frequency. HUBER+SUHNER products excel in excellent performance, quality, reliability and long service lives - even under the most demanding conditions. Through a global production network, combined with subsidiaries and representatives in over 80 countries, the company is close to its customers worldwide.