The current push by businesses to keep hold of their customers as they come out of the recession, could be given a boost with a new feedback software and consultancy package, which ditches the traditional tick box survey exercise and provides much more meaningful and relevant data.
Bristol-based Diciamo's approach brings together a targeted feedback software package which focuses on what customers actually want to say, with consultancy and advice on how to make the best use of the feedback.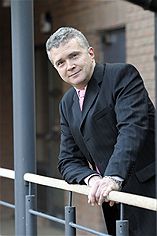 Mario Dolcezza
Diciamo's managing director, Mario Dolcezza says one of the biggest issues in customer service is that too many businesses are chasing a specific customer feedback score with a tick box survey which fails to address their customers' specific concerns and does nothing to build any customer loyalty.
Its new solution, "Your Impressions™", a feedback tool originally developed for Porsche cars, ensures that businesses can engage with their customers through feedback. This enables businesses to have a far greater understanding and address the specific issues of their customers rather than looking at performance rating on a numeric scale. Ultimately the goal is to build positive, loyal advocates, who not only spend more but also generate a word-of-mouth buzz that enhances a business's brand and reputation.
Wessex Garages in Bristol has been working with Diciamo and is using "Your Impressions™" to support its '100 Per Cent Satisfaction' scheme.
Businesses across the board are shifting emphasis back onto customer relations and service for 2010 as winning new customers is thought to be up to five times more expensive than getting more business from the existing customer base.
Mario says, "The idea that you can just open the doors to your business and herd customers in and out without bothering about customer service is long gone.
"Businesses need to be thinking about looking after their existing customers, as they are the ones who will be talking about them and recommending them, or not, if they have a bad experience.
"What we do with Your Impressions is to survey the company's customers and find out what they actually think about the company, not just asking them to rate their satisfaction from one to five.
"Once the data is collected we advise the business on how best to act on it, as there are still many companies that just collect feedback forms for the statistical information but do nothing to address specific customer issues or build customer loyalty.
"We work with the client and continually develop the service to fit around their changing needs and as a result they get a much better understanding of what it is their customers want and how they can provide a better product or service.
"This is very important because you can turn a negative customer experience into a positive one by acting quickly to deal with any issues raised. Customers accept things may go wrong, it's how you deal with it that counts and to turn the situation around you need to get the right information. Reacting well to a customer concern builds a stronger relationship and creates a level of loyalty that is hard to break."
Chris Wiseman, Operations Director at Wessex Garages, comments, "Working with Diciamo has given us a greater understanding of the customer's experience of Wessex Garages across our sales and after sales departments. We are now able to respond faster in a more effective and dynamic way. Utilising this technology will undoubtedly assist us in driving our own culture of '100% satisfaction' across all of our brands.
"The package offered by Diciamo has given us true insight into what our customers expect from the Wessex brand and is helping to drive loyalty at a time when customer service could make all the difference."
About Diciamo
Diciamo is a service company that is passionate about how businesses provide customer service.
Working with high profile household names, Diciamo has developed core systems and skills that enable their clients to build their reputations by engaging with customers through feedback.
Bristol-based Diciamo provides systems and processes that enable their clients to manage and monitor their customers experiences, providing positive solutions that turn disgruntled customers in to adoring fans.
For more information go to www.diciamo.co.uk
For further information contact
Helen Stevens/Sara Lewis
www.ascentpr.co.uk
T. 01454 629 741
diciamo@ascentpr.co.uk