Beating Strong Competition from Starbucks, Waitrose, Pepsi & Pizza Hut
15 March 2010 - London, UK -- Cyber-Duck, a multiple award winning digital media agency, today announced that it has received the "Best In Class" award at the Interactive Media Awards™ for its production of the innovative online wine store, Vinifera Boutique (http://www.viniferaboutique.com). The honour recognises that the project surpassed the standards of excellence that comprise the web's most professional work. The site was honoured specifically for excellence in the food and beverage industries.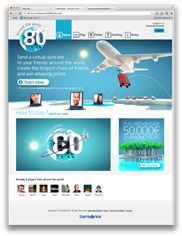 Vinifera Boutique
Cyber-Duck beat off some strong competition to win the Best In Class title including household brands such as Starbucks, Waitrose, Cornetto, Pepsi, Carte D'Or, Pizza Hut, Iceland, Magnum within the same industry category.
The judging panel, consisting of industry leaders from the likes of CNNmoney.com, American Express and Hill & Knowlton, decided that the Vinifera Boutique website outclassed rivals in terms of design, content, feature functionality, usability and standards compliance.
Oscar Majurin, Founder of Vinifera Boutique said, "This is a great accolade and we take great pride in beating such strong competition. From the early consultancy stage through to quality assurance it was clear that Cyber-Duck's professional approach would result in a high-quality, award winning product."
Matt Gibson, Director at Cyber-Duck and Project Manager of Vinifera Boutique commented "We are delighted to be recognised as Best in Class. To receive this accolade for design, content and standards compliance is a reflection of the team's dedication to this project. Winning this award exemplifies how we managed to strike the right balance between powerful branding, eye-catching aesthetics, strong information architecture and accessibility compliancy."
Visit Vinifera Boutique here: http://www.viniferaboutique.com
Visit Cyber-Duck here: http://www.cyber-duck.co.uk
- Ends –
About Cyber-Duck
Established in 2004 Cyber-Duck is a leading digital agency specialising in delivering award winning User Centered Solutions. The company works with over 100 companies from across the globe, ranging from start-ups to large enterprises, and including household brands.
Utilising the latest web 2.0 and SaaS technologies, powerful eCommerce solutions, stylish branding and expert online marketing, Cyber-Duck provides comprehensive solutions that streamline business processes and drive conversions. Cyber-Duck's five core services are Web Production, Consultancy, Web Technology, Branding and Online Marketing.
Cyber-Duck's ethos and breadth of expertise have resulted in the company being repeatedly recognised as a leader in the digital industry field, winning some of the industry's most prestigious awards. Last year alone Cyber-Duck won awards at the Horizon Interactive Awards, the Communicator Awards, the Interactive Media Awards, the W3 Awards, the Europrix Top Talent Awards and the Construction Marketing Awards.
About Vinifera Boutique
Vinifera Boutique brings exclusive French wines, never before sold in the UK, directly from French vineyards to UK consumers.
www.viniferaboutique.com
Contacts for Press
Melissa Lehrer
T: 0781 651 8018
E: melissa@cyber-duck.co.uk