There is an increasing demand from industrial workers and contractors operating in high risk areas to wear an EN471 (high visibility) compliant garment that has the additional benefits of heat and flame protection.
Using the world renowned Nomex® fibre, DuPont Personal Protection has developed a yellow high visibility solution called Nomex® ProVis: this solution offers inherent protection from heat and flame, from molten metal splashes, and from heat of an electric arc; it is anti-static and performs in environments where high day light visibility is required.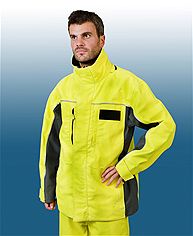 Nomex ProVis
Nomex® ProVis is based on an engineered blend solution manufactured with a DuPont proprietary spinning technology.  The special construction of Nomex® ProVis fabric provides equivalent thermal and physical properties to Nomex® Comfort fabrics, in combination with the additional requirements for EN471 high visibility yellow.
Oriol Rofes, Nomex® Marketing Manager, explains: "We identified a need for very comfortable flame resistant protective clothing that also offered high visibility and so we developed Nomex® ProVis. Whilst the garment offers much needed high visibility it also incorporates Nomex®, a recognized flame resistant fibre from DuPont. Nomex® ProVis offers protection against a multitude of hazards for employees working in many different industries such as petrochemical and utilities."
DuPont will be unveiling Nomex® ProVis at this year's A+A in Dusseldorf, Germany. To find out more about Nomex® ProVis visit the DuPont in Hall 5, stand C31 between 3rd and 6th November 2009 or visit www.dpp-europe.com.
ENDS
Notes to Editors
DuPont Personal Protection (www.dpp-europe.com) uses the experience of DuPont as one of the safest companies in the world, its recognised scientific and technological expertise and its knowledge of key markets to source solutions to protect people, products, businesses and the environment.
DuPont (www.dupont.com) is a science-based products and services company. Founded in 1802, DuPont puts science to work by creating sustainable solutions essential to a better, safer, healthier life for people everywhere. Operating in more than 70 countries, DuPont offers a wide range of innovative products and services for markets including agriculture and food; building and construction; communications; and transportation.
The DuPont Oval, DuPont™, The miracles of science™ and Nomex® are registered trademarks or trademarks of E. I. du Pont de Nemours and Company or its affiliates.
This information is also available on The McOnie Agency website.
To download the accompanying HIGH RES image, please click on the link:
Nomex ProVis
Please wait a few minutes until the photo appears, then follow instructions from no. 4 below.
Alternatively, go to www.mconieagency.com,
1. Roll your mouse over to "press releases", then drop down to DuPont Personal Protection, across to Nomex, and click.
2. Click "more" to bring up the whole press release.
3. To download the hi-res photo to your desktop, right click the link and choose "Save link to disc" or "Save Target As…."
4. Open the photo in your chosen application and convert to CMYK for printing.
If you need any help or would like a high res image emailed to you, please contact Stephanie Kelly.
This image is the property of DuPont Personal Protection, for use solely to illustrate the text within this press release. Use of this image for any other purpose is prohibited.
For additional information:
Please contact Stephanie Kelly
The McOnie Agency
Tel: 01483 237230
Fax: 01483 237234
Email: stephanie@mconieagency.com