Cayman Islands Chamber of Commerce honours eShore business excellence and contribution to local community and private sector initiatives
Cayman Islands, 01 November 2018: eShore Ltd, the leading email and data security firm (www.eshoreltd.com), today announced it has been recognised by the Cayman Islands Chamber of Commerce for an outstanding contribution to the local and private sector community. The award reflects the hard work and support from eShore over the last 12 months to raise cyber security awareness, support training, education and social responsibility programs.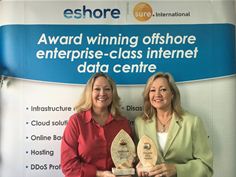 eShore picks up Business Award
The second Annual awards, hosted by the Cayman Islands Chamber of Commerce were held at the Ritz Carlton hotel on 28th October. As the leading voice within Cayman's business community, the Chamber is well positioned to judge which companies have made an exceptional contribution to both private sector initiatives as well as local community projects.
Richard W. Rahn, Chairman of the Institute for Global Economic Growth, a Cayman Islands prominent supporter, said of eShore's award: "Cayman is a small island, but eShore provides world class professionals and service, and deserves the recognition provided by this award."
eShore's contribution to the Cayman region is not limited solely to the private sector, and their impact in the Cayman Islands, Caribbean and LATAM region can be seen in a number of different areas:
The Annual Regional Armour Expo conference which attracts a globally renowned set of speakers is brought to Cayman by eShore. Attended by 200+ international delegates, the successful conference showcases thought leadership, strategies and solutions in cyber security, FinTech and data protection for the overall business community.
eShore hosts complimentary cyber security events aimed at helping local businesses understand the key challenges and issues in cyber security, and how best to stay safe online.
The CSXF cyber security fundamentals scholarship, now in its third year, helps local business people, including newly qualified graduates, to study a prestigious cyber security course building up to the ISACA Cyber Security Fundamentals certification exam.
Cayman Cyber Kids (C@YKids) is a revolutionary new initiative that takes on the hard issues surrounding cybersecurity and the way to keep children and families safe. Their first priority is creating awareness and promoting the healthy use of devices, protecting personal information and recognition of malicious and predatory behavior.
Polly Pickering, Managing Director of eShore Ltd explains, "Cyber threats are continually evolving which is why constant vigilance is required. Our cyber and business experts at eShore continue to make a significant impact above and beyond serving our core markets of email, data and cyber security. I am so proud that as a company we also invest our time and resources in both local and regional social initiatives which are very close to my heart. We come together as a community to educate and protect ourselves and our children from the latest evolving cyber dangers. Thank you to our loyal customers, top technology partners and thank you to our eShore team members and their supportive families for playing a part in this celebrated award."
MEDIA ENQUIRIES
Adam Osman | Tel: +44 (0) 7976 891 335 | Email: aomarketing@gmail.com