Innovative service supported by GÉANT and TERENA enables mobility for researchers and students across 54 countries
Cambridge, UK and Amsterdam, Netherlands, 24 May, 2012, eduroam®, the ground-breaking secure roaming connectivity service has passed a major milestone: since its inception 10 years ago eduroam has now spread to over 50 countries globally, with more than 5,000 locations in Europe alone where researchers, students and teachers with eduroam credentials can securely access the Internet while away from their home institution.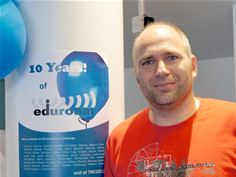 Klaas Wierenga
A celebration of eduroam's ten-year anniversary will take place during the 2012 TERENA Networking Conference (TNC2012), with special recognition for the role of Klaas Wierenga who had the original idea for eduroam while employed at SURFnet, the Dutch National Research and Education Network (NREN) organisation. The anniversary is 30 May 2012.
Secure roaming access
Today's research and education community is increasingly mobile, and depends on technology and the Internet to collaborate and communicate. eduroam was created to meet these needs. Without the need to register for guest accounts or remember extra passwords, users can simply open their laptops or activate their mobile devices, and eduroam automatically authenticates them with their home institution and handles authorisation via the institution they are visiting. This not only benefits researchers, teachers and students, but reduces the support burden for institutions themselves, making it simple to provide access for visiting users without adding to their administrative workload.
Ten years ago, Klaas Wierenga was "getting annoyed by the fact that whenever I visited a university I had to register my wireless card or borrow one from the local IT department to get online." He realised that "there was no reason why visitors from SURFnet-connected institutions should not get access to the campus and SURFnet network" and, following some initial experimentation, on 30 May 2002 he emailed his idea to experts from the wider European NREN community, who were participating in the TERENA Task Force on Mobility (now TF-MNM). "It was the perfect place to get feedback and improve on half-baked ideas," says Klaas. "I also realised that what we were trialling on a small scale in the Netherlands could be broadened out across other countries."
Miroslav Milinović works at Srce, University Computing Centre, University of Zagreb in Croatia, which took part in the first eduroam developments ten years ago along with SURFnet, the University of Southampton and the Portuguese NREN, FCCN. He leads the Operational Team that coordinates the European eduroam confederation as part of the pan-European GÉANT project, and also chairs the Global eduroam Governance Committee (GeGC), which was established to ensure the uniform deployment of eduroam across existing and new territories. "Ten years ago wireless networks and mobile working were in their infancy, but as demand has increased from the global research community, eduroam has expanded its reach to meet changing working needs," he says. "The service and the technology behind it are continuing to develop and improve, with the research and education networking community still contributing their time and expertise through TERENA task forces and GÉANT project research and service activities."
Cutting-edge developments
The eduroam infrastructure is based on 802.1X standard technology and RADIUS proxy servers which handle authentication requests within participating institutions. "eduroam is now a significant player in the wireless access industry with our voice heard by manufacturers and specification writers alike. We have taken the technologies on which eduroam is based to their limits and beyond, and are constantly influencing industry and standardisation organisations to take the underlying technologies to the next level, improving ease-of-use ever further," says Stefan Winter of RESTENA, the Luxembourg NREN, Lead Engineer for eduroam research and development in Europe. "Now, ten years after eduroam started using these technologies, industry at large is picking it up for their commercial systems as well - eduroam was a decade ahead of the commercial market."
A collaborative effort
The eduroam service is provided through a large-scale collaboration between hundreds of institutions, the majority of which own and operate the service's infrastructure. Roaming Operators (ROs), in many cases NRENs, coordinate this infrastructure with campuses and hotspot operators to ensure a consistent eduroam experience no matter where a user roams.
Collaboration on the world-wide level takes place through the GeGC, which currently includes nominated representatives from the Asia-Pacific region (Australia, Japan), North America (Canada, the United States), Latin America (Brazil, Peru), Africa (Kenya) and the confederation of ROs in Europe. The GeGC authorises ROs to operate the eduroam service once they comply with its technical and organisational standards, which were devised to ensure consistent high standards everywhere as the service expands.
Expansion to 54 territories
On 19 April 2012, the GeGC approved applications from organisations in Brazil, Peru, Kenya, New Zealand, Republic of China (Taiwan), Thailand and Hong Kong to operate eduroam. This brought the number of recognised eduroam participating territories to 54, alongside Australia, Canada, USA, Japan, and the European confederation that represents Andorra, Armenia, Austria, Azerbaijan, Belarus, Belgium, Bulgaria, Croatia, Cyprus, Czech Republic, Denmark, Estonia, Finland, France, Germany, Greece, Hungary, Iceland, Ireland, Israel, Italy, Kyrgyzstan, Latvia, Lithuania, Luxembourg, Macedonia, Malta, Moldova, Montenegro, Netherlands, Norway, Poland, Portugal, Romania, Russia, Serbia, Slovakia, Slovenia, Spain, Sweden, Switzerland, Turkey and the United Kingdom.
More information about eduroam is available via: www.eduroam.org
About GÉANT
The GÉANT project provides the high-speed European communication network, GÉANT, which is dedicated to research and education. In combination with project partners, GÉANT creates a secure, high-speed research infrastructure that serves 40 million researchers in over 8,000 institutions across 40 European countries. Building on the success of its predecessors, GÉANT has been created around the needs of users, providing flexible, end-to-end services that transform the way that researchers collaborate. GÉANT is at the heart of global research networking through wide ranging connections with other world regions, underpinning vital projects that bridge the digital divide and benefit society as a whole.
Co-funded by the European Commission under the EU's 7th Research and Development Framework Programme, GÉANT is the e-infrastructure at the heart of the EU's European Research Area and contributes to the development of emerging Internet technologies. The project partners are 32 European National Research and Education Networks (NRENs), TERENA and DANTE, which operates GÉANT on behalf of Europe's NRENs. For more information, see www.geant.net
DANTE Contact:
Paul Maurice
+44 (0)1223 371 300
paul.maurice@dante.net
About TERENA
The Trans-European Research and Education Networking Association, TERENA, is the collaborative forum in which NRENs, research institutes, equipment vendors and telecommunications operators meet, exchange information and experience, and innovate Internet technology, infrastructure and services for use by the research and education community. TERENA activities - projects, task forces and events - are open to any organisation or individual who can offer appropriate expertise, manpower or other resources.
As part of the GÉANT project, TERENA staff participate in the European eduroam Operational Team and help to promote the service. The TERENA Task Force on Mobility and Network Middleware (TF-MNM) continues to keep eduroam as a focus of some of its work, and TERENA provides secretariat support to the Global eduroam Governance Committee, which was constituted in November 2010 with seven senior representatives of roaming operators in North America, Asia-Pacific and Europe. TERENA finalised the summary charter for global eduroam governance after extensive consultation with eduroam leaders from these regions and appoints GeGC members on the basis of nominations from their regional confederation or regional groups of roaming operators.
The TERENA Networking Conference (TNC) is the largest and most prestigious European research networking conference - over 500 participants including decision makers, networking specialists and managers from all major European networking and research organisations, universities, worldwide sister institutions and industry representatives attend. https://tnc2012.terena.org/
® eduroam is a registered trademark of TERENA.
(http://www.terena.org)
TERENA Contact:
Laura Durnford
Senior Communications Officer
+31 (0) 651776721
durnford@terena.org