London, UK – April 15, 2016 – eeGeo Limited announced that it has joined the Cisco® Solution Partner Program as a Solution Partner. The Internet of Everything (IoE) continues to bring together people, processes, data and things to enhance the relevancy of network connections. As a member of the Cisco Solution Partner Program, eeGeo is able to quickly create and deploy solutions to enhance the capabilities, performance and management of the network to capture value in the IoE.
"We have worked closely with Cisco to ensure our 3D mapping platform delivers visualization that enhances their Connected Mobile Experiences (CMX), Mobile Workspace and Enterprise Mobility Services Platform solutions", said Jeremy Copp, eeGeo's Chief Commercial Officer. "In an increasingly connected world it is vital to provide users with an engaging, intuitive and compelling mechanism to interact with the complex real time data generated by the IoE".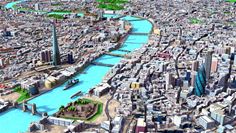 3D map of London
The Cisco Solution Partner Program, part of the Cisco Partner Ecosystem, unites Cisco with third-party independent hardware and software vendors to deliver integrated solutions to joint customers. As a Solution Partner, eeGeo offers a complementary product offering and has started to collaborate with Cisco to meet the needs of joint customers. For more information on eeGeo, go to: our Cisco Solution Partner Program Catalog profile.
About eeGeo:
eeGeo is revolutionising the way in which businesses engage with their markets. With its gaming industry heritage the cloud-based platform marries gaming software with mobile technology and big data. The result is a 3D geospatially accurate representation of the world, including building-level detail and interior and exterior mapping. The platform enables clients to present information and services to their customers in an environment differentiated from their competitors. It provides a new way to visualise local search results, businesses, destinations and marketing content within an interactive 3D environment, encouraging user acquisition, engagement and retention.
eeGeo is a privately held company founded in September 2010 with offices in San Francisco, London and Dundee and is funded through investment from the founder, strategic partners, private investment funds and venture capital. eeGeo's global customer base includes top brands from a range of sectors including retail, tourism, smart cities, local media and advertising, the Internet of Things and property.
More information and a full list of eeGeo's customers can be found on the eeGeo website.