Investment will allow company to further develop its 3D mapping platform and accelerate international growth
London, UK – 16 March 2016 – eeGeo, the 3D mapping and visualisation company, today announced it has raised $5 million in strategic financing from Netsol Technologies, Inc. and a group of investors. The company also signed a collaboration agreement with NetSol Technologies that will provide eeGeo with access to NetSol's pool of engineering talent. The investment and collaboration agreements will reinforce the company's ability to serve surging demand from customers and partners around the world and further enhance its innovative platform.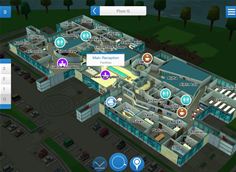 eeGeo interior mapping
The eeGeo platform has already been experienced by millions of end-users around the world, enabling businesses to easily visualise complex data sets and location-based services in a 3D mobile experience. For example, the platform is used by Cisco and NTT DoCoMo to deliver engaging, compelling and differentiated 3D map experiences for both interior and exterior locations.
"Following the official company launch in 2015, we have seen an increase in customers and partners wanting to implement our mapping technology as part of their business offerings, in order to better engage with their end-users, maximise efficiency and create additional revenue streams," said Ian Hetherington, CEO and Founder. "This strategic funding will put us in a position to serve a much larger market, whilst delivering new features and making our solution widely available."

The investment will support eeGeo in its mission to develop the platform's next-generation interior mapping capabilities, answering customer demand for a solution that gives a 3D representation of any space. The funding will provide eeGeo with the resources to develop end-user solutions at a much faster pace, significantly reducing time-to-market. As a result, the company will be able to build a range of market-specific products that customers can personalise according to their needs.
"This is an opportunity to partner with a transformative company and grow a new revenue stream by collaborating on eeGeo's disruptive product roadmap," said Najeeb Ghauri, CEO of NetSol. "At NetSol we have an immense pool of talented software engineers working on developing cutting edge solutions for our industry vertical. This partnership was born out of a shared confidence that this same talent pool could accelerate eeGeo's product vision. We look forward to closely working with eeGeo as they continue to grow their business."
Additional resources
About eeGeo
eeGeo is revolutionising the way in which businesses engage with their markets. With its gaming industry heritage the cloud-based platform marries gaming software with mobile technology and big data. The result is a 3D geospatially accurate representation of the world, including building-level detail and interior and exterior mapping. The platform enables clients to present information and services to their customers in an environment differentiated from their competitors. It provides a new way to visualise local search results, businesses, destinations and marketing content within an interactive 3D environment, encouraging user acquisition, engagement and retention.
eeGeo is a privately held company founded in September 2010 with offices in San Francisco, London and Dundee and is funded through investment from the founder, strategic partners, private investment funds and venture capital. eeGeo's global customer base includes top brands from a range of sectors including retail, tourism, smart cities, local media and advertising, the Internet of Things and property.
More information and a full list of eeGeo's customers can be found on the eeGeo website: http://www.eegeo.com/
Press Contact:
Francesco Tius
PR for eeGeo
Tel: +44 20 8392 4061
Email: eegeo@axicom.com