The global computing phenomenon and the latest Raspberry Pi accessories all in stock now at element14 for delivery by Christmas
London - 10 December 2012 - Meccano, Lego, Scalextric, Raspberry Pi… what do all these things have in common? They are all the building blocks for the perfect childhood toy… and they make great Christmas presents. This Christmas ignite the imagination of kids young and old by getting them started with a Raspberry Pi from element14.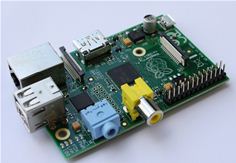 Raspberry Pi
The Raspberry Pi is a parent's dream… a low cost, credit-card sized computer that achieves a perfect blend of education and fun. It offers an inspirational way to get children excited about the power of programming and the underlying technology behind the latest mobile phones, tablets, games consoles and Apps. The pocket-sized computer will grow with your children's imagination and puts them firmly in charge of what they create. The Raspberry Pi has already been used to power projects including a toy rocket launcher, jukebox, robot tweeting-chicken and, for the grown ups, even a home beer-brewing kit. What better way to spend Boxing Day than designing the next great project and at just £27 ($35) why not buy for the whole family and get coding together this Christmas.
Raspberry Pi owners can also avoid the usual rubbish Christmas TV and boring 'family time' by registering and getting involved in the Raspberry Pi section of the element14 Community, an invaluable free online social network and information resource for anyone of any experience level to discuss, share and develop ideas involving the Raspberry Pi. Once up and running they can then share their ideas and plans in the Raspberry Pi Code Exchange.
Also available from element14 are a range of over 50 innovative Raspberry Pi accessories that enable owners to build their collection with the addition of extra functionality and capabilities. Accessories available exclusively from element14, the home of the Raspberry Pi, include:
WiPi: wirelessly connects the Raspberry Pi to a network.

PiView: enables the direct connection of the Raspberry Pi to VGA monitors from the HDMI output.
Customers can also register their interest in two other new and exclusive Raspberry Pi accessories –
PiFace digital: Targeted at 11-16 year olds this new device stacks on top of the Raspberry Pi and connects it to physical devices such as lights, motors and sensors.

Gertboard: The Gertboard is an add-on GPIO expansion board which allows Raspberry Pi users to connect to and control more advanced physical devices.
Mike Buffham of element14 comments: "A Raspberry Pi is for life, not just for Christmas. Instead of the Furby or other 'fashionable' gifts that will be gathering dust in the loft before the year is out, the Raspberry Pi is a gift kids will keep on having fun with, whilst learning valuable computing skills that will stay with them for the rest of their lives."
If customers want to buy the complete Raspberry Pi kit, which can include cables, mouse, keyboard, they can visit CPC in the UK or MCM in the United States to get up and running without worry on Christmas Day.
-End-
About element14
Launched in June 2009, element14 is the first information portal, collaborative community and electronics store specifically built for electronic design engineers. The community recently unveiled its element14 knode, a unique automated platform that enables engineers to quickly research, design, develop and prototype in a single, intelligent environment. element14 is an innovative offering from Premier Farnell plc (LSE:pfl), FTSE 250, a leader in multi-channel electronics distribution trading throughout Europe (Farnell), the Americas (Newark) and Asia Pacific (element14). The company had group sales of £973.9m and underlying profits of £104.6m last year.
For news updates from Premier Farnell visit:
Premier Farnell News Centre – www.premierfarnell.com/media-centre
Twitter - @element14news; @element14
YouTube – element14
Facebook – /element14page
Email: pressoffice@premierfarnell.com
European Contact:
Jen Cooke
PR Manager, Europe and Global
Tel: +44 (0) 113 279 0101
Email: jcooke@premierfarnell.com
APAC Contact:
Christina Loh
Communications, APAC
Tel: + 65 6671 8769
Email: cloh@element14.com
Americas Contact:
Janice Fleisher
Communications, Americas
Tel: +001 (1) 773 907 5941
Email: jfleisher@newark.com
Ken Leitch
Global Head of PR
Premier Farnell
Tel: +44(0) 207 851 4145
Email: KLeitch@premierfarnell.com