As the ever expanding range of media player devices creates a demand for efficient ways of connecting memory storage devices, Elan Digital's new Mobidapter provides one of the smallest and simplest solutions. 
Their matchbox-sized Mobidapter plugs straight into the SD slot found on Panasonic TVs allowing you to transfer photos and films stored on a standard USB stick in minutes.  No PC or Laptop connections are needed, no driver software, and no power supply. The Panasonic TV's software simply recognises the SD card and the stored data in the USB stick is instantly transferred via the Mobidapter.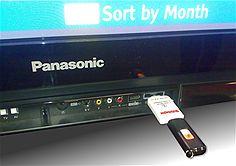 The Mobidaper
The Mobidapter is compatible with virtually all SD and USB compliant products and measures 1.38 x 2.95 x 0.4 inches and weighs less than an ounce.
A totally new concept amid the currently available data-sharing options, the Mobidapter aptly demonstrates Elan Digital's leading position in customised SD/SDIO technology.
About Elan Digital Systems
Elan Digital Systems Ltd. is a specialist design house centered on interface technology.  A worldwide range of clients use their products and custom design services.  Elan Digital is a privately owned company which has gained unique experience over its 30 year history and uses the latest design & manufacturing technology which makes them one of the leading PC and PDA interface design companies globally.  In recent years Elan Digital has expanded its design expertise to include SD /SDIO, USB and Express Card  technologies as well as focusing its design efforts on unique products for the fast-growing mobile datacomms market.  Elan Digital has ISO9001 (2000) approval.
Media enquiries – Corinne Hadingham – (+01489 579799) corinne.hadingham@elandigitalsystems.com