Live blood tests to prove how revolutionary FIR-VEST improves circulation, balance and wellbeing despite the stress of F1 racing
FIR-VEST, the revolutionary clothing garment being worn by the pit team of the Red Bull Racing team during this year's opening Grand Prix races, is to be unveiled to the world's media at a press conference at the Radisson Blu Bosphorus Hotel in Istanbul on Thursday (6.30pm).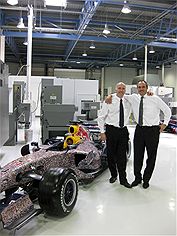 Iwan and Dick Postel
The event, being held on the eve of the Turkish Grand Prix in Istanbul, is being organised by the inventors and developers of the FIR-VEST – Cyprus-based FIR-TEX Ltd - which announced its partnership with Red Bull Racing two weeks ago. Blood tests will be taken from volunteers before and after wearing the FIR-VEST, with results flashed on to video screens to show the improved performance levels.
"FIR-TEX equipped garments can have a dramatic effect on a person's wellbeing and performance and in Formula One – where split seconds make all the difference – the FIR-VEST is helping the Red Bull pit crew to perform to its maximum," said Iwan Postel, co-founder and CEO of FIR-TEX.
"Thursday's event will not just talk about the product – but show what it can do – and of course it has huge potential to help people across the world, whatever their need. It is truly a revolutionary breakthrough in proving how clothing can help the human body achieve its potential."
A FIR-TEX equipped garment protects the wearer from stressful electromagnetic radiation and increases energy, power and endurance, which are all important elements for athletes, especially within the demanding world of Formula One. The garments improve (micro) circulation, balance, concentration and well being.
"After impressive FIR-VEST testing results, several neurologists have shown serious interest in the technology and we are about to launch a worldwide scientific test in order to become a medically approved product that will be covered by health care insurances and so will become far more accessible worldwide," explained Mr Postel.
FIR-TEX uses Far Infrared Rays (known to be healthy radiations) which switch on as soon as the body heat activates it. FIR (Far Infrared Ray) radiations can be created with a mixture of very few mineral oxides (three-four), but no company previously has come forward with the scientific evidence to support its claims. Its products are a revolution due to a very hi-tech and secret evolution in this field of technologies. Mr Postel and his elder brother Dick have developed this new ennobled tissue, including not just three or four oxides but dozens of the best quality mineral oxides, with unequalled performance results.
FIR-TEX statements are based on verified scientific facts. Some FIR-VEST tests are kept secret, but all FIR-VEST tests have been done in accordance with scientific approved protocols.
"FIR-TEX is extremely flattered and delighted with developments and the innovation partnership with Red Bull Racing, which follows nearly a year of discussions," said Mr Postel.
"We hope to play a part in Red Bull Racing winning the 2010 Championship and we are looking forward to demonstrating how our products may help their team."
FIR-TEX products are available online and via country distributors and their affiliates. The mother company of FIR-TEX is based in Cyprus and is privately held. The two co-founders of FIR-TEX Ltd, Iwan and Dick Postel, can be reached by email and will be available for exclusive press interviews only.
More information about FIR-TEX can be found on the website http://www.fir-tex.com/ and our call centre is also available to receive your phone calls at the following number: +31 (0)70 85 00 875.
ENDS
Media Invitation
Journalists are invited to attend the FIR-TEX press conference at the Radisson Blu Bosphorus Hotel in Istanbul on Thursday from 6.30pm. The evening will include a presentation about FIR-TEX and live blood analyses performed on volunteers.
Special guests include:
Paul Cheung (Red Bull Racing Chiropractor)

Maarten Groeneveld (Physiotherapist Dutch Handball Federation)

Annelise Bunce (Homeopathic doctor and certified clinical metal toxicologist)

Lique Kwisthout (MS patient using FIR-TEX for six months)

Sultan Kosen (Tallest man in the world, 8ft 1in, using FIR-TEX)

Iwan and Dick Postel (Co-founders of FIR-TEX)
To confirm your attendance – there is limited space - or to arrange interviews, please contact:
Iwan Postel
CEO
FIR-TEX
Tel: +357 2225 1987
Email: press@fir-tex.com

Liz Dolby
Account Manager
Proactive PR
Office Tel: +44 1636 812152
Mobile Tel: +44 7966 477441
Email: liz.dolby@proactive-pr.com
Note to Editors:
The FIR-TEX press conference will also be streamed live on the FIR-TEX website (http://www.fir-tex.com/), making it available to anyone unable to attend the event.