Medical Practice welcomes Dr Roger Anderson as Senior Consultant
London, 19 May 2009 – Dr. Roger Anderson, a PhD chemist and life sciences recruitment specialist, has recently joined global life sciences recruitment leader RSA as a senior consultant.  Working within the consultancy's Medical Practice, Roger joins RSA with over a decade of international executive search experience within the pharmaceutical, healthcare and life sciences sectors.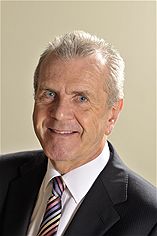 Dr Roger Anderson
As a cross-border executive search specialist, Roger had a 26 year career in the Fine Chemical, Precious Metal and Pre-clinical Research sectors, with such companies as Ciba-Geigy, FMC's Lithium Division, Johnson Matthey, and Huntingdon Life Sciences.
From this varied industry background, Roger began recruiting with a focus on the Life Sciences sector within Europe and further afield, where he developed in-depth experience as a cross-border search consultant. Over the last decade, he has recruited across most facets of the life sciences industry, including the pharmaceutical, biotech, agrochemical, medical devices, pre-clinical and clinical CRO sectors. He has also handled assignments in the fine chemicals, nutraceuticals and animal health sectors. 
In his new role, Roger will be responsible for expanding the strong executive search component in RSA's Medical Practice and working with the company's global offices on international executive search assignments. Working out of the company's London office, Roger will work closely with Nicola Harding, Head of RSA's Medical Practice. 
Of his appointment at RSA, Roger said: "RSA and I share a vision of executive search as an intensely personal, service-driven business that requires close partnerships with clients and a strong working knowledge of the skills and personal dynamics required of leaders in the increasingly global life sciences industry."
-END-
About RSA
RSA is a global leader in Executive Search and Interim Management to the Life Sciences sectors with offices in China, France, Germany, Singapore, Switzerland, UK and USA.  To find out more go to www.theRSAgroup.com.
Further information available from:
Sue Glanville/Maita Soukup
Say Communications
Tel: +44 (0)208 971 6423/6411
sglanville@saycomms.co.uk
msoukup@saycomms.co.uk