- North Staffordshire sustainable development creates cost savings of up to £300,000 pa -
Global provider of sustainable logistics space, Gazeley, today announces that its new completed £50 million scheme, G.Park Blue Planet at Chatterley Valley, is the first development in the world to be awarded the new BREEAM (Building Research Establishment Environmental Assessment Method) "Outstanding" rating (design stage). This is the highest sustainable accolade available in property development.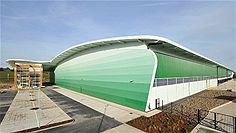 Chatterley Valley 1
On average G.Park Blue Planet scored 85.49%, which classifies it as outstanding under the new tougher 2008 ratings for environmental performance introduced in June 2008. The development scored particularly well under the BREEAM rating in the management, health & wellbeing and water (all 100%); energy (87.5%); and waste (85.71%).
Jonathan Fenton-Jones, Director of Sustainability and Global Procurement at Gazeley said, "Receiving the first BREEAM 'outstanding' rating is the highest recognition for Gazeley's focus on sustainable logistics. With G.Park Blue Planet at Chatterley Valley, we believe we have created an industry blue print for cutting-edge developments. Not only does it deliver significant environmental savings, it also creates total energy and water cost in use savings of up to £300,000 per annum."
Gazeley partnered with Newcastle-under-Lyme Borough Council and regional development agency, Advantage West Midlands (AWM) to create the world's greenest logistics developments as part of the first phase of the wider Chatterley Valley park, North Staffordshire. 
Located on a former colliery site, G.Park Blue Planet at Chatterley Valley is a 35,500 sq m development that was recently completed. It houses the UK's first truly carbon positive logistics development, with its own biomass micro power station. What sets this development apart is that 100% of the energy and heat is supplied by renewable sources. This has helped it exceed the UK Governments Climate Change Bill targets for both 2020 and 2050 in 2009.
Paul Gibbon, Director of Sustainability at BRE Global, the developers of BREEAM, said, "Obtaining the first ever BREEAM outstanding is a remarkable achievement. This development scored very highly in all sections of BREEAM and achieved exemplary credits on the key areas of daylighting, reduced CO2 emissions, construction waste management and use of low carbon technologies. What is more the development shows that achieving a high BREEAM standard can also mean lower running costs."
The sustainability credentials that have led to this prestigious award include:
• Thermally efficient buildings with air tightness and thermal insulation
• Kinetic plates which capture energy every time a vehicle enters or leaves the site
• Efficient systems for further building energy reduction, utilising cutting-edge lighting, maximum use of natural light, under floor heating and an energy panel wall
• The latest solar cell technology implanted into special rooflights which eliminate night time light pollution
• The majority of materials used in the building being either A or A+ rated in BRE Globals' Green Guide to Specification
• The development targets zero waste send to landfill
Mick Laverty, Chief Executive of Advantage West Midlands, said, "We're delighted to see the hard work at G Park Blue Planet being rewarded. It is truly one of the most exciting developments we have in the West Midlands region. This is a tangible example of moving talk about climate change into demonstrable action, and showcases the West Midlands as a region which is embracing the opportunities of the new low carbon era."
The overall Chatterley Valley park is a joint venture between Advantage West Midlands and the North Staffordshire Regeneration Zone, Newcastle Borough Council, Stoke-on-Trent City Council and Staffordshire County Council. The park totals 70 hectares of land that will be transformed over the next decade, creating a total of around 4,000 jobs.
- ENDS -
For further information please contact:
• Sonia Clarke on 020 7908 6570 / sclarke@lexispr.com
• Dajinder Rana on 020 7908 6536 / drana@lexispr.com
Notes to editors:
*The cost savings can be achieved once the biomass plant is fully installed and operating. This will be completed in the coming months.
About Gazeley
Gazeley, was founded in 1987 in the UK and has since developed more than 60 million sq ft (5.6 million sq m) of sustainable distribution warehouses and industrial space for leading international companies and third-party logistics providers worldwide.
Gazeley's vision is: 'to be a global provider of logistics space delivered in a sustainable way'. Gazeley has a range of logistics sites to offer to its customers across the UK, France, Belgium, Spain, Germany, Italy, China, Mexico and India and has plans to expand operations further into the Middle East.
Gazeley first launched its sustainable design concept in 2002 and the company continues to assign considerable investment into sustainability and renewable technologies to ensure this best practice approach is fully embedded in all the developer's buildings. By 2010, the company pledges to make 35% of all its developments carbon positive while providing a 35% overall global reduction in carbon emissions.
A suite of key environmental measures are provided to customers as standard reflecting Gazeley's cost effective procurement and long-term commitment to sustainable development. The ability to implement leading edge environmental technologies ranging from rain water harvesting and ETFE rooflights to biomass plants across its developments provides customers with significant operational cost savings.
Gazeley was acquired by Economics Zones World (EZW), a Dubai World company in June 2008 and was previously a subsidiary of Wal*mart, the world's largest retailer.
For further information please visit www.gazeley.com
About Advantage West Midlands
Advantage West Midlands is the Regional Development Agency (RDA) for the West Midlands region – one of nine RDAs in England established to transform English regions through sustainable economic development.
Advantage West Midlands takes the lead role in setting the strategy and focus for regional economic improvement; building the partnerships needed to achieve the region's vision; and ensuring that public money is targeted to those activities and projects best placed to make a real difference.
With an annual budget of more than £300 million to invest in the economic development of the West Midlands, Advantage West Midlands is, at any one time, managing around 2,500 projects which are changing the lives of people right across our region.
For more information visit www.advantagewm.co.uk