High Wycombe, UK, 27 September 2018 - At The Restaurant Show 2018 (1-3 October 2018, Olympia, London) Goodtill will be demonstrating its intuitive iPad POS System with industry-leading features alongside the Star TSP143IIIBI and TSP143IIIU printers on Stand US19.
Combining tablets with cutting-edge software, Cloud technology and innovative hardware from Star, the POS system from Goodtill offers functionality and style. Designed to help businesses of all sizes run their operations more efficiently, the system provides innovative features including synced cloud and off-line modes, full setup, comprehensive reporting, multi-outlet management, integrations with third-party platforms and technology as well as table and inventory management and customer facing display.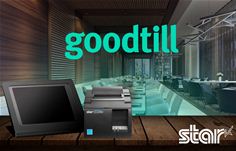 Goodtill and Star Micronics at The Restaurant Show 2018
Beyond simply taking payments, built-in modules and reporting functions enable a business to access data on everything from stock management to sales and profit margins, providing the business insights that help an entire business run smoothly and give it the competitive edge to grow.
Easy to set up and run on a daily basis, the system is simple to customise and the business support features can be accessed from anywhere, anytime. In particular, all of the real-time reporting features incorporated into the system can be accessed on site (including multi-sites) or remotely.
"Goodtill POS for hospitality is completely painless to set up and intuitive to use. With packages that can be customised for restaurants, pubs, delis, coffee shops, fast food outlets and even outdoor food trucks, we offer one of the most comprehensive tools you can imagine for your hospitality business. And, wherever you are, you stay up to speed with everything you need to know to run your hospitality operation successfully and efficiently," comments Oliver Rowbory, Director at Goodtill.
As the latest addition to the renowned TSP100 futurePRNT™ series, the Star TSP143IIIU is the only USB receipt printer today to communicate and charge simultaneously and directly via the Apple-supplied lightning cable with an iPad, iPod or iPhone for reliable USB communication.
The Star TSP143IIIBI provides an AutoConnect function for iOS after power on or an out-of-range situation thus ensuring functionality at all times. Featuring a print speed of 250mm/second, a guillotine auto cutter (MCBF 2 million cuts) as well as thin paper capability, the printer can reduce operating costs for the user. The cost-effective solution includes the convenience of an internal power supply along with a vertical mount kit in the box.
As Annette Tarlton, Marketing Director, Star Micronics EMEA, adds: "We are pleased to be working in partnership with Goodtill to provide the hospitality sector with a powerful and intuitive iPad POS system alongside innovative hardware. The unique Star TSP143IIIU USB printer in particular removes the insecurity of wireless connection and seamlessly combines the flexibility and cost savings of tablet POS with the reliability of traditional POS."
About Goodtill
Based in London and Luton, Goodtill supports retail and hospitality outlets across the UK and further afield by delivering deep level management insights, a brilliant customer experience and helps businesses gain repeat business, including upsell opportunities. Combining tablet computers with cutting-edge Point of Sale (POS) software, cloud technology and modern hardware, the Goodtill POS system makes no compromises. Built alongside input from real customers, Goodtill puts customers at the centre of all activities. www.thegoodtill.com
About Star Micronics
Founded in 1947, Star Micronics is one of the world's largest printer manufacturers and has facilities for worldwide production, marketing and support. Employing over 1900 staff and achieving turnover in excess of £250 million, Star Micronics has developed a POS printer portfolio that spans thermal and dot matrix printers and mechanisms, designed for barcode, ticketing, receipts and labelling. Star's proven technology is also being utilised to install print mechanisms in multimedia kiosk environments. The Star Micronics' range is available internationally via a distribution channel comprising distributors and dealers.
-oOo-
For further information, please visit www.Star-EMEA.com or contact:
Annette Tarlton
Marketing Director
Star Micronics EMEA
Tel: +44 (0)1494 471111
Email: Atarlton@Star-EMEA.com
Claire Smith
PR Manager
Star Micronics EMEA
Tel: +44 (0)1494 471111
Email: Csmith@Star-EMEA.com
Oliver Rowbory
Director
Goodtill
Tel: +44 (0) 203 764 0800
Email: hello@thegoodtill.com