Investindustrial implements carbon reduction programme with leading experts; achieves CarbonNeutral® company certification;
Monday 21st June 2010 - Greenstone Carbon Management, the global specialist carbon solutions company, and The CarbonNeutral Company, a world-leading provider of carbon reduction solutions, today announced that jointly they have enabled Investindustrial, a leading European investment group, to help monitor and implement an offset inclusive carbon reduction programme across its offices in five countries. This is another success in a series of new deals secured since the partnership was announced in March 2010.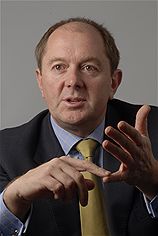 Matthew de Villiers, Chief Executive at Greenstone Carbon Management
Greenstone Carbon Management has provided its software platform Acco2untenterprise to help Investindustrial accurately measure, manage and report on its carbon emissions. Once Investindustrial had a full understanding of the source of its carbon emissions, The CarbonNeutral Company has developed an offset inclusive carbon reduction programme setting reduction targets and reducing unavoidable emissions to net zero through carbon offsetting. As a result of this process Investindustrial has been awarded the CarbonNeutral® company certification.
Greenstone's carbon accounting software Acco2untenterprise will continue to help monitor and report on the impact and progress of the reduction initiatives against set targets throughout Investindustrial's offices in Luxembourg, Switzerland, Italy, Spain and United Kingdom.
Fabio Rosati, Investindustrial said, "The implementation of a carbon management and reduction initiative should be a key activity for any organisation. Our commitment to environmental issues is strong and we believe this investment will not only be good for our internal processes but also contribute positively to shareholder value in the long term. We have a vision of creating enduring value for our portfolio companies, their stakeholders and investors; and we will be working closely with Greenstone and The CarbonNeutral Company to build a more sustainable future."
Jonathan Shopley, Managing Director The CarbonNeutral Company said, "Investindustrial is a good example of a large, successful, global business implementing an offset inclusive carbon reduction programme in a smart and cost effective way to meet environmental obligations and regulatory requirements. Our experience shows us that companies that implement such programmes will benefit from reducing operational costs, increasing operational efficiency and enhancing corporate reputation."
Matthew de Villiers, Chief Executive Officer at Greenstone Carbon Management comments, "We are delighted to be supporting Investindustrial in enabling its carbon management capability. Providing the capability to measure and understand carbon emissions with minimal effort and on an ongoing basis will allow the Investindustrial team to focus their time on meeting reduction objectives. As one of Europe's leading investment groups it also has the opportunity to set an example and provide leadership in this area."
- End -
Notes to Editor
* Greenstone's unique Acco2unt software product suite provides organisations with robust carbon management and accounting solutions. It enables organisations to measure, manage, plan, store and report emission data, track performance on their carbon footprint at multiple organisational levels and to accurately model carbon footprint reduction strategies. Acco2unt can significantly reduce the burden of auditing and reporting for compliance purposes, for stakeholders and customers. An extensive list of emission sources is included in the software's calculation covering energy, travel and transport, IT, together with waste and water consumption.
About Greenstone Carbon Management Limited
Greenstone Carbon Management Limited is a specialist carbon solutions company – based in London, United Kingdom. Formed in 2006, it works in partnership with major commercial and public sector organisations to help measure, manage and mitigate their carbon emissions to realise business and financial benefits. Greenstone's proposition comprises both consulting advice and access to a suite of Carbon Management software tools through a SaaS model.
Typically, engagements with clients follow a three step process: (i) Carbon Readiness Assessment; (ii) Carbon Measurement and (iii) Carbon Reduction Strategies. During the engagement, Greenstone will provide tools to help measure and manage the organisation's carbon emissions, help set up processes to gather data and to train personnel to manage their carbon footprint on an ongoing basis.
Greenstone has worked with a range of global businesses and respected brands such as the Virgin Group, Fujitsu and Ocado Limited. For further information please visit http://www.greenstonecarbon.com
About The Carbon Neutral Company
The CarbonNeutral Company (www.carbonneutral.com) is a world leading provider of carbon reduction solutions. It works with over 300 major businesses and thousands of small and medium sized companies in 32 countries to develop offset inclusive carbon reduction programmes. Since 1997, it has purchased carbon credits from over 200 projects across six continents.
CarbonNeutral® is the registered trademark of The CarbonNeutral Company and is a global standard to certify that businesses have measured and reduced their CO2 emissions to net zero for their company, products, operations or services. Permission to display the CarbonNeutral® mark is only given to clients whose carbon reduction programme is implemented in accordance with The CarbonNeutral Protocol. The Protocol assures quality of offset projects, carbon footprint assessments and communication and is regularly reviewed by an Independent Advisory Group. The company's 'audit trail' includes an annual independent verification of CarbonNeutral programs – from contracts with carbon offset partners through to contracts with clients and everything in between.
The CarbonNeutral Company has offices in New York, London and Singapore, with a network of associates in Japan and UAE. The CarbonNeutral Company is a founding member of The International Carbon Reduction and Offset Alliance (ICROA), which provides leadership and a unified voice advocating for rigorous industry standards www.icroa.org
About Investindustrial
Investindustrial is a leading Southern European investment group with approximately €2.1 billion of assets under management, which provides industrial solutions and capital to mid-market companies in Southern Europe. Founded in 1990, the firm operates as one cohesive team with more than 40 professionals. Investindustrial's mission is to actively contribute to the development of the companies in which it invests, by creating growth opportunities and offering global solutions through an entrepreneurial pan-European vision. Certain companies of the Investindustrial group are authorized by, and subject to regulatory supervision of, the FSA and the JFSC in the United Kingdom and the CSSF in Luxembourg.
www.investindustrial.com
Press contact:
Lena@technologypr.eu
Technology PR
Mobile +44 07908 725212