London, November 19th, 2018: iDENprotect (www.idenprotect.com) has today announced that its 'iDENprotect for BlackBerry' app is now available for BlackBerry managed devices running the Android operating system. 'iDENprotect for BlackBerry' on Android can be downloaded from the Google Play Store or from the BlackBerry Marketplace.
In the recent months, there has been another spate of highly publicised data breaches and case of identity theft all of which could have been prevented by stronger, more robust security controls. It is more important than ever that strong and secure controls are employed across all platforms, if companies are to eliminate the risks associated with data leakage and identity theft.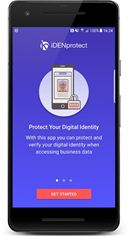 iDENprotect screenshot
Combined with BlackBerry UEM and the iDENprotect management platform, 'iDENprotect for BlackBerry' allows organisations to secure the access to their sensitive company data on their employees' devices and to also provide strong and secure access to other systems and data using a password-less single sign-on experience.
The iDENprotect technology fulfils the most stringent security requirements by using a combination of unique strong digital key management and the native hardware security present in all modern mobile devices. Simplicity and usability is delivered through the removal of all user passwords, providing a consistent and fluid experience.
Relating to the launch of 'iDENprotect for BlackBerry' on Android, Craig McDermott, CEO of iDENprotect, stated, "iDENprotect is committed to protecting all types of mobile and laptop devices across as many computing platforms as possible, this latest release builds on the success we have had on the Apple iOS platform. The launch brings the benefits of the greater security controls offered by iDENprotect to the extensive population of BlackBerry managed corporate and BYO Android based devices across the Globe."
"With the fast growing number of executives using their own devices to access corporate data, it is essential that we enable our technology for all such computing devices. Our offering of strong multi-factor authentication and hassle-free single sign-on solution can be adapted for specific requirements, enabling companies to anticipate and address new security challenges as they arise."
-ENDS-
About iDENprotect
iDENprotect™ is a multi-factor authentication and single sign-on company delivering highly secure identity and access management solutions to organisations, large and small. Our solutions enable them to manage users and devices centrally, creating a strong chain of trust between the user, their device and the organisation they work for.
With mobile devices increasingly being used for business applications and government services, iDENprotect turns these devices into highly secure authenticators, exploiting their convenience and ease of use whilst providing employers with the trust that access is properly secured.
iDENprotect's vision is to offer the most secure and the most useable technology to ensure the protection of sensitive data and financial transactions globally.
iDENprotect is a strategic partner to BlackBerry and is the trading name of Apply Mobile Limited. For more information please visit www.idenprotect.com
Press Contacts
Christine Durkin, iDENprotect
+44 7880 731679
press@idenprotect.com
Patrick Smith, Joshua PR for iDENprotect
+44 7734 600553
Patrick.smith@joshuapr.com