High Wycombe, UK, 8 March 2016 Star Micronics is pleased to announce that iVend Retail, a recognised industry leader for integrated omnichannel solutions, cloud management and mobile retail, will be present on the Star stand (310) at RBTE, 9-10 March, Olympia, London as well as Stand 520. On the Star stand, iVend Retail will be demonstrating its Mobile POS software with Star's mPOP™, a combined Bluetooth printer and cash drawer mobile point of purchase solution.
The iVend Retail management suite is a leading omnichannel and mobile retail solution, which enables retailers to drive sales, profits and customer satisfaction across all channels through a 360 degree view of the customer and a single view of stock.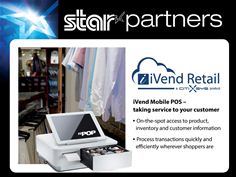 iVend Retail joins Star Micronics at RBTE 2016
iVend Retail has integrated its management suite with Star's mPOP solution that offers the ultimate space saving mobile POS system. Simple and stylish, the lightweight and portable solution is just 10cm high and 30cm wide with a sleek design that will complement any counter top. Alongside mPOP, iVend Retail has integrated Star's SM-S200i Bluetooth mobile printer and TSP654II desktop printer.
iVend Retail is a Gold member of Star's VIP Club for software developers and system integrators that offers a range of exclusive benefits including dedicated sales, marketing and technical support alongside access to comprehensive SDKs. Members can also take part in competitions, receive rewards and incentives as well as benefit from a number of additional initiatives. Membership level is allocated based upon pre-determined criteria set out by Star Micronics EMEA.
"Today's shoppers expect function and form, increasingly demanding seamless experiences," Richard Kolodynski, Senior Vice President European Operations at iVend Retail, commented: "Now more than ever mobile technology is becoming the key enabler, allowing retailers to mirror the online experience in their bricks-and-mortar outlets to drive additional sales. Our partnership with Star Micronics delivers a 'best in class' solution for SMEs, who need a compact point of sale system that's equipped to deal with the complexities of the omnichannel consumer."
mPOP has received Apple Inc.'s MFi (Made for iPhone, iPad, iPod) certification and works with all major operating systems including Apple iOS, Android and Windows to provide users with a versatile solution.
Annette Tarlton, Marketing Director, Star Micronics EMEA, adds: "As a Gold member of Star's VIP Club, iVend Retail has demonstrated a high level of commitment to the Star brand and has successfully integrated our products into a variety of applications. We are delighted that iVend Retail will be present on the Star stand at RBTE demonstrating its unique management suite with Star's latest innovative solution, the mPOP."
About iVend
iVend delivers omnichannel retail management solutions for the way retailers work today, implementing technology that is built to enable change, not just built to last. We believe that retailers shouldn't have to worry about managing hardware, software licenses, upgrades – they just need the tools to deliver great customer service. Part of Citixsys worldwide, iVend stands for innovation in retail technology and leadership in Cloud management and mobile retail. In addition to providing traditional fixed till and back office server solutions as required, we are experts in developing solutions for complex retail – multi-format, multi-location, multi-channel and multi-sector retailers.
About Star Micronics
Founded in 1947, Star Micronics is one of the world's largest printer manufacturers and has facilities for worldwide production, marketing and support. Employing over 1900 staff and achieving turnover in excess of £250 million, Star Micronics has developed a POS printer portfolio that spans thermal and dot matrix printers and mechanisms, designed for barcode, ticketing, receipts and labelling. Star's proven technology is also being utilised to develop reader/writer systems for visual/smart and magnetic stripe cards and to install print mechanisms in multimedia kiosk environments. The Star Micronics' range is available internationally via a distribution channel comprising distributors and dealers.
-oOo-
For further information, please visit www.Star-EMEA.com or contact:
Annette Tarlton
Marketing Director
Star Micronics EMEA
Tel: +44 (0)1494 471111
Email: Atarlton@Star-EMEA.com
Claire Smith
PR Manager
Star Micronics EMEA
Tel: +44 (0)1494 471111
Email: Csmith@Star-EMEA.com