High Wycombe, 16 July 2014
International POS printer manufacturer Star Micronics announces today that its latest Bluetooth desktop printer, the TSP654IIBTi, was successfully deployed with iZettle's Chip & PIN solution at Silverstone's 50th Grand Prix this month. The mobile payments kit was used on the lawn bars at the British Racing Drivers' Club in association with Silverstone Hospitality.
Having worked with iZettle since April 2013 Star Micronics provides a range of compatible printing solutions that support Android and iOS, from mobile printers to the TSP654IIBTi Bluetooth desktop printer that communicates with a tablet without the need for a router, while offering full cash drawer support.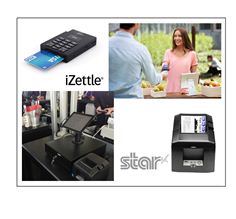 iZettle and Star Micronics
iZettle has established itself as the leading European player within the mobile payments arena with a growing global presence. Its Chip & PIN solution is currently in use across seven European markets, helping small businesses grow, and giving them tools previously accessible only to big businesses, from a complete point of sale solution to free sales overview tools like reports and graphs to spot sales opportunities and identify loyal customers.
As Annette Tarlton, Marketing Director, Star Micronics EMEA, comments: "We are delighted to have partnered with iZettle at this prestigious event in the motor racing calendar. The TSP654IIBTi is a reliable and versatile Bluetooth printer that is already finding huge success in a wide variety of environments and applications."
[ENDS]
Notes to Editors
About Star Micronics
Founded in 1947, Star Micronics is one of the world's largest printer manufacturers and has facilities for worldwide production, marketing and support. Employing over 2600 staff and achieving turnover in excess of £270 million, Star Micronics has developed a POS printer portfolio that spans thermal and dot matrix printers and mechanisms, designed for barcode, ticketing, receipts and labelling. Star's proven technology is also being utilised to develop reader/writer systems for visual/smart and magnetic stripe cards and to install print mechanisms in multimedia kiosk environments. The Star Micronics' range is available internationally via a distribution channel comprising distributors and dealers.
About iZettle
We believe running a business should be easier. At iZettle we come to work every day to build game-changing payment services and apps – from card readers for smartphones and tablets to cash registers and tools for increasing sales. They are simple to set up and use, always secure and help you build your business. But that's not all, they actually make running your small business way more fun.
Our headquarters may be in Stockholm, but we're now used by hundreds of thousands of businesses in nine countries around the world. Join us at www.izettle.com.
For further information, please contact:
Annette Tarlton
Marketing Director
Star Micronics EMEA
Tel: +44 (0)1494 471111
Email: Atarlton@Star-EMEA.com