Chose Panasonic for rugged device design, service and commitment to Android Operating System support
BRACKNELL, UK. 10th May 2019 – Innserve, specialists in the supply, installation and maintenance of beer and soft drinks dispense systems, is rolling out Panasonic TOUGHBOOK L1 Android tablets to its 400 technicians across the UK. The company chose the devices for their rugged and ergonomic design, alongside Panasonic's commitment to supporting the latest Android operating systems and its comprehensive service and maintenance offering.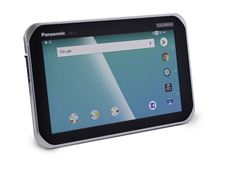 Panasonic TOUGHBOOK
Innserve is the major provider of drinks dispensing in the UK. Its maintenance and installation technicians service more than 80,000 licensed and non licensed premises across England, Scotland and Wales. The company has used Panasonic TOUGHBOOK devices for many years and was impressed with the latest TOUGHBOOK L1 Android tablet.
"We require rugged Android devices that are functional, reliable and competitively priced," said Kieran Delaney, Innserve's Director of IT. "But it is not just the device, it's the service and maintenance that comes with it that is critical to the running of our operation. In addition, because we develop all our own desktop and mobile applications, ongoing support for future versions of Android is incredibly important to us to ensure we can continue to take advantage of future innovations."
Specialist Android support
Panasonic offers its Android customers specialist Android support through Panasonic COMPASS, its market-leading suite of enterprise management tools for Panasonic TOUGHBOOK rugged tablets and handheld devices running the Android operating system. The latest additions to the Complete Android Services and Security package include a new proprietary rapid configuration tool "PARC", enhanced security support for up to 3 years after product end of life and can be extended for up to 5 years, including support through OS transition where applicable., as well as a Mobile Enterprise Application Platform and an application submission portal to certify new applications for devices.
Next day replacement
To ensure the workforce always has the right tools for the job, Panasonic also maintains a Rapid Replacement stock for Innserve at its configuration and service centre in Cardiff and provides a 24 hour replacement service for devices that are damaged or stolen.
A hands-on device
Innserve technicians will receive their daily schedule of 8-10 appointments a day, plan their journeys and record information about each job using the device. In addition, the TOUGHBOOK L1 tablet will be used to place orders for and return parts, as well as for email communications, to provide access to HR systems and payment information, and also to show customers the latest information and training videos.
 
"This is very much a hands-on device for our technicians," explained Drew Wilcox, Systems Support Manager at Innserve. "Technicians have to input a lot of data, often in wet and difficult environments. The TOUGHBOOK L1 tablet is easy to use and read. Technicians appreciate the finer design details like the handstrap and stylus and the device is lightweight and easy to carry in their toolbags. The new micro USB charger is also a good design choice because it means the technicians can charge the device with the same equipment as their Android mobile phones."
The new TOUGHBOOK L1 tablets will be rolled out to technicians through the replacement service as current devices fail or are due for service.
Darren Munday, Corporate Account Manager for Panasonic TOUGHBOOK, said: "Innserve technicians rely on their mobile computing devices to help keep business flowing for their customers. This means that the Android devices they use have to be rugged, functional, reliable and future-proof. As Europe's leading rugged tablet and notebook provider, we have a long track record of delivering mobile computing devices that businesses can trust. Alongside our COMPASS suite of enterprise management tools for Android devices and our comprehensive service, repair and warranty offering, Panasonic is the ideal solution partner."
A rugged Android device
The Panasonic TOUGHBOOK L1 tablet is a lightweight rugged Android tablet ideal for edge computing and customer-facing mobile workers that need a versatile and cost-effective device. With its 7 inch display and optional barcode reader, it is suitable for a wide range of roles in industries such as retail and hospitality, manufacturing, transportation and logistics.
Press contact:
Kiri O'Leary
The Amber Group
kiri@ambergroup.net
+44 (0)118 949 7737
About Panasonic System Communications Company Europe (PSCEU)
Our quest is to make technology work invisibly together and free businesses to succeed. We believe technology should just work. That businesses will succeed if they can simply focus on their customers, in the knowledge that all the technologies delivering their capabilities work together. That is why we are dedicated to developing products and solutions that are so integrated with our customer's way of working, that they are almost invisible – the workhorse in the background that powers business success.
PSCEU is made up of six product categories:
Broadcast & ProAV gives you the freedom to tell the story with its high quality products and solutions, which ensure smooth operation and excellent cost-performance across a range of remote cameras, switchers, studio cameras and ENG P2HD. The cinema camera range of VariCam models and the EVA1 are capable of true 4K and High Dynamic Range (HDR) making them the ideal solution for cinema, television, documentary and live event production.
Communication Solutions offers world leading telephony systems, SIP terminal devices and professional 'network' scanners giving you the freedom to focus on the communication and not the connection.
Mobile Solutions Business Division helps mobile workers improve productivity with its range of Toughbook rugged notebooks, business tablets, handhelds and electronic point of sales (EPOS) systems. As European market leaders, Panasonic had a 48% revenue share of sales of rugged and durable notebooks and tablets in 2018 (VDC Research, March 2019).
Industrial Medical Vision manufactures applications for various segments such as medical, life science, ProAV or industrial. The product portfolio includes complete and OEM camera systems, providing the freedom to see what can't be seen.
Security Solutions, built on a heritage of providing evidential quality CCTV footage. Delivering the highest image quality in all environmental conditions using our highly reliable, advanced technology cameras and image recording systems, giving you the freedom to feel secure.
Visual System Solutions offers the widest range of professional displays and projectors and allows Audio Visual professionals the freedom to create. It leads the European high brightness projector market with a 39% market revenue share (Futuresource >5klm FY17 Q3, excl. 4K & digital cinema).
About Panasonic
Panasonic Corporation is a worldwide leader in the development of diverse electronics technologies and solutions for customers in the consumer electronics, housing, automotive, and B2B businesses. The company, which celebrated its 100th anniversary in 2018, has expanded globally and now operates 591 subsidiaries and 88 associated companies worldwide, recording consolidated net sales of Euro 61.4 billion for the year ended March 31, 2018. Committed to pursuing new value through innovation across divisional lines, the company uses its technologies to create a better life and a better world for its customers. To learn more about Panasonic: http://www.panasonic.com/global.