Scanner fleet at the Isle of Man Post Office encompasses Kodak's workgroup, departmental and high performance productions scanners

Integrated Mailing Solutions (IMS) the fastest growing business area in the Isle of Man Post Office
London April 7, 2010 – Kodak (NYSE:EK) today announced that the Isle of Man Post Office's Integrated Mailing Solutions (IMS) division has purchased three high performance i1860 production scanners to add additional document imaging capacity to its operation having won a substantial three-year high value forms processing contract servicing one of the UK's best selling monthly magazines.
The new Kodak i1860 scanners will process volumes of up to 80,000 images per day with a range of captured documents such as coupons and vouchers then uploaded securely to the client's mainframe computer.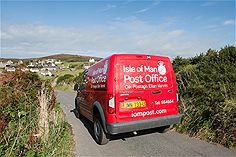 Post van
Further to a comprehensive tender process, Kodak partner - Capital Capture - was selected to supply the scanner hardware, associated software and integration services to tailor some of the software modules in terms of forms design. Along with Kodak's own Capture Pro software, Autonomy Cardiff's TeleForm 10.2 image capture technology has been implemented to offer OCR and handwriting recognition capability which was a key requirement.
Housed within Isle of Man Post Office's headquarters in Douglas, IMS is the fastest growing division within the business with revenues growing 30% last year. With 140 clients in local government, financial services along with international commercial organisations, IMS provides a one-stop-shop range of services for businesses and large companies including mail opening, printing, fulfillment, document scanning and data capture, stationary and franking.
IMS is the first printing, scanning and mailing specialist on the Isle of Man and Channel Islands to achieve ISO/IEC 27001:2005 accreditation guaranteeing the confidentiality, integrity and availability of all clients' commercially sensitive information.
Tony Randle, Isle of Man Post Office's general manager for integrated mail solutions (IMS), says, "We wanted best-of-breed scanner equipment which is robust, reliable and easy for staff to use. Research carried out by our own IT staff and advice from Capital Capture showed that the Kodak i1860 scanners were head and shoulders above the competition, and we're very pleased we made the decision to buy them."
With 500 sheet feeders included, the i1860 scanners operate at 200 pages per minute and virtually offer unlimited scanning capacity 24/7. Incorporating a motorised height adjustable floor-standing design, the scanners have colour touch-screen OLED displays to give operators full access to the scanner's controls. The ergonomic design and quiet operation makes them user friendly, with space in the base unit for a PC to ensure a tidy office environment.
The Isle of Man Post Office has been a long-term user of Kodak's scanner equipment first installing it in the late 1990s. Today, its fleet totals twelve devices – five i200 series workgroup scanners, two i1440 departmental scanners, two i640 production scanners and now three top of the range i1860s.
Currently the i1860 scanners are dedicated to one client only with two of the units in day-to-day operation, and the third available on standby for business continuity purposes. The new equipment and software was installed and tested within four weeks, with staff then trained on how to use the scanners by Kodak engineers. Operation has been faultless.
Even so, 100% uptime is crucial and the Post Office has built in redundancy to cope with this. Tony Randle explains, "To ensure that our client can get its order processing completed, aggressive SLAs are in place meaning we guarantee 53,000 images are processed each day prior to a 2.30pm deadline, with the residue of documents handled by 6.30pm. There's no room for system downtime hence having a spare i1860 available. As we are located in the middle of the Irish Sea, failover has to be instant - we simply can't wait for an engineer to fly in if there's an issue which our local service and support supplier can't deal with."
Moving forward, the Isle of Man Post Office wants to take on as much scanning work as possible, both for the local government while attracting new business to the island.
Lisa Duckworth, Isle of Man Post Office's head of support services, says, "The purchase of the i1860 scanners was fundamental to us winning the biggest client in our history – a deal which demonstrates we can beat the largest data capture companies in the UK and abroad. Our value is cost competitiveness, speed of turnaround, but most importantly the fact we're a post office – everything is under one roof for clients which ensures safe, secure delivery day in, day out."
David Whitton, Kodak document imaging's Northern Cluster sales manager, says, "Bureau services within the Isle of Man Post Office is now very much a driving force in the organisation and crucial to its ongoing profitability. Given scanning has become such a mission critical activity, it's a testament to the quality of our scanning equipment that the Isle of Man Post Office has standardized on Kodak and selected us as its preferred scanner supplier."
- Ends -
About Isle of Man Post Office
Isle of Man Post Office became an independent postal authority in July 1973 and a statutory board of Tynwald - the oldest continuous parliament in the world founded over 1,000 years ago. The island is a self-governing British Crown Dependency with an island population of around 86,000 people and 3,000 businesses.
The Isle of Man Post Office is entirely self-sufficient and, unlike other government departments, does not receive any finance from the central government reserves, yet contributes 50% of its profits to the Treasury. The Post Office is made-up of six business units – Mail, Retail, Philatelic, Parcels, Vehicle Licensing & Integrated Mailing Solutions.
Isle of Man Post Office is proud that its postage rate continues to be the most competitive first class rate in the British Isles and amongst the lowest in Europe.
Businesses interested in exploring the IMS options available to them can contact the sales team on 01624 698444 or visit www.iompost.com/ims
About Kodak
As the world's foremost imaging innovator, Kodak helps consumers, businesses, and creative professionals unleash the power of pictures and printing to enrich their lives.
To learn more, visit www.kodak.com, and our blogs: 1000words.kodak.com, and 1000nerds.kodak.com. Kodak corporate news releases are now offered via RSS feeds. To subscribe, visit www.kodak.com/go/RSS and look for the RSS symbol.
In addition, Kodak podcasts are viewable at www.kodak.com/go/podcasts. Podcasts may be downloaded for viewing on iTunes, Quicktime, or other PC-based media players. Users may also subscribe to Kodak podcasts via the iTunes Store by typing "Kodak Close Up" in the search field at the top of the iTunes Store window. Kodak is a trademark of Eastman Kodak.
Contacts:
Kodak Document Imaging, UK
Tom Herbst
Tel: +44 (0)207 274 9937
Mob: +44 (0)7768 145571
tom@tomherbstpr.co.uk
Web: www.kodak.com/go/docimaging
Isle of Man Post Office
Lucy Webster-Thompson
PR & Communications Manager
Tel : (0) 1624 698492
lucy.webster-thompson@iompost.com
Web: www.iompost.com/ims
Capital Capture
Dale Wardill
Sales Director
Tel: +44 (0)207 314 7700
Dale.Wardill@capitalcapture.com
Web: www.capitalcapture.com