November 19, 2009: Logic3 today unveiled the i-StationGo range, a colourful new line-up of multi-purpose, foldaway travel speakers which are designed to work with any i-Pod, MP3 player or portable device with a headphone outlet.
The i-StationGo adds to Logic3's popular range of i-Station Traveller speakers. Compact and robust, the rounded edges of the new speakers are specifically designed to fold down for maximum portability and easy storage in a briefcase, suitcase, backpack or handbag.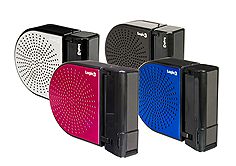 Closed group shot of i-StationGo
The i-StationGo speakers are also built to last and can deliver four watts of stereo sound for up to an amazing 15 hours from just four AAA batteries.
The neat design also includes a simple cradle that allows an MP3 player to sit either vertically or horizontally – allowing easy viewing of music videos or even movies on wide-screen devices such as the iPod touch, iPod Nano and even the iPhone.
Because the i-StationGo connects by simply using the standard 3.5 mm head phone socket, other MP3 players and portable devices such as the PSPgo and many mobile phones are also compatible with the i-StationGo.
Launched in four colours to match the latest generation of iPod nano – pink, silver, blue and black – the i-StationGo makes an ideal stocking filler Xmas present to match the new iPod or any other MP3.
Available from Maplins, John Lewis, Amazon, or direct from Logic3 (www.logic3.com) the i-StationGo (model no: IPS006) has an SRP of £19.99 which includes four AAA batteries and a protective cloth carry case.
-ends-
Logic3
Logic3 was founded in 1977, and has since developed hundreds of products for the portable audio and console/PC gaming industry. Visit www.logic3.com for the full range of innovative gadgets and gaming accessories.
For further information, images and products please contact
Holly, Kelly or Lynne on 0118 920 7675
Or email logic3@escapadepr.com