SAN FRANCISCO, CA., January 10, 2023 - Kensu, the Data Observability company, announced today that it has partnered with Snowflake, the Data Cloud company, to better aid data practitioners in gaining full visibility into their real-time data with Snowflake's expansive data storage, processing, and analytics capabilities. The Kensu Platform, Powered by Snowflake, will offer enhanced analytics and master data management to joint customers.
Data environments have grown increasingly complex, and data issues, such as broken data pipelines, incomplete datasets, or schema changes, can be detrimental if not properly handled or prevented. By building the Kensu Platform on Snowflake, Kensu will be able to deliver solutions to data teams while preventing data issues through its core architecture.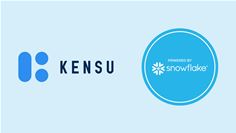 Kensu, the Data Observability company has partnered with Snowflake, the Data Cloud company
The solution is one of the first of its kind for data teams and allows users to lower maintenance costs, mitigate data-related risks, and improve scalability. The Kensu Community Edition is now also powered by Snowflake's single, integrated platform, enabling more users to seamlessly deploy Kensu's agent-based approach to deliver real-time, contextual data observations with a free, unlimited-time developer environment.
"We're excited to partner with Snowflake and build within the Data Cloud to further the availability of data observability at the source to companies from small to large enterprises. This is an important step in ensuring data teams have the 360 data observability they need and can trust what they deliver," said Eleanor Treharne-Jones, CEO of Kensu.
"Snowflake's mission is to mobilize the world's data and we aim to do that through partnerships like the one we have with Kensu," said Scott Schilling, Senior Director of Global Partner Development at Snowflake. "We look forward to watching the Kensu Platform enhance our customers' ability to trust and mobilize their data in the service of the enterprise as a Powered by Snowflake partner."
Industry leading applications are Powered by Snowflake. By building on Snowflake, product and engineering teams are able to develop, scale, and operate their applications without operational burden and deliver differentiated products to their customers. With the Powered by Snowflake program, builders get access to resources to help them design, market, and operate their applications in the Data Cloud. To learn more about becoming Powered by Snowflake, visit www.snowflake.com/partners/poweredbysnowflake.

About Kensu.io
Kensu's data observability solution allows data teams to reduce risks and costs related to data incidents. It also helps them scale up value creation from their data.
Its disruptive approach goes beyond simply scanning data files and collecting application logs here and there: it monitors data at the source, where and when the applications are using it.
Data teams are always in control, troubleshooting data issues faster and preventing them from propagating. Hence, they can trust what they deliver and get the most out of their investment in data. Find out more at https://www.kensu.io/
Media Contact:
francois.pietquin@kensu.io