Malaysian Animated Original Series Boosts Library Of Programming
London – 14th April 2009 - KidsCo, the international children's channel owned by leading media companies NBC Universal, Cookie Jar Group and Corus Entertainment Inc., today announces that it has commissioned 13 x 2 minute episodes of a "green" animation called Boo and Me.  This exciting new co-production between KidsCo, the home of entertaining and educational programming, and Inspidea Sdn Bhd is a pay TV exclusive to the channel worldwide and will air on KidsCo throughout Europe, Russia, Middle East, Africa and Asia.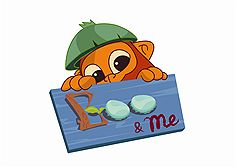 Boo and Me
Aimed at kids aged 6 to 10, Boo and Me follows the adventures of Boo the Orangutan who lives in a sanctuary in Malaysia after being rescued from poachers.  Boo's favourite visitors are Aiman and Yasmin, two children who help him learn lessons in environmental conservation.  The series charts how Boo a lovable, but carefree animal comes to understand how to love and protect nature - after all - little things can have a big impact. 
Produced in Malaysia by Kuala Lumpur based Inspidea Sdn Bhd, Boo and Me will delight children when it launches across KidsCo's channels from September 2009.
Commenting on the commission, Paul Robinson, Managing Director, KidsCo and joint Executive Producer of Boo and Me, said: "We are delighted to be collaborating with one of Malaysia's leading animation companies, Inspidea, on Boo and Me. This exciting new series bolsters our home-grown library of original programming and is also a perfect fit for our stable of educational entertainment which is loved by children and their families around the world. As KidsCo grows across Asia we are committed to invest in Asian programming to further improve our quality program line up.
"We are very excited to work with a brand new channel like Kidsco which has access to major markets around the world," said Andrew Ooi, Managing Director of Inspidea Sdn Bhd. We value this co-production effort because it expands our experience in storytelling. This is a great opportunity for us to tell cute and funny stories to kids while we discreetly embed the green cause in their brains. So while they're having fun watching cartoons, we start them young to be our future leaders of environmental protection."
About KidsCo
KidsCo is the fourth global children's television network.  Launched in September 2007, KidsCo is a joint venture channel owned by leading media companies NBC Universal, Corus Entertainment Inc (Nelvana) and Cookie Jar Group.
KidsCo's global distribution plan, launching linear, VOD, SVOD and IPTV channels has already seen the channel rolling out in prime territories around the world including Germany, Portugal, Spain, Romania, Ukraine, the Middle East, Hungary, Russia, Turkey, Poland, Singapore, the Philippines, South Korea, Palau, Papua New Guinea, Thailand, Cambodia, Hong Kong and countries across sub-Saharan Africa.
KidsCo provides a safe environment for children, offering a library of gently educational and age appropriate programming.  KidsCo's impressive catalogue includes animated and live-action television series and feature-length movies which are selected from leading media companies, including our shareholders – Cookie Jar Group and Corus' Nelvana - as well as other, pre-eminent, independent programming suppliers including the BBC, Sesame Workshop, Fireworks, Iconix, TV Loonland, Daro Film and Decode. 
KidsCo programming includes globally recognised brands such as The Wiggles, Inspector Gadget, Sabrina, Wallace & Gromit, S Club 7, Strawberry Shortcake, New Adventures of Madeline, Babar, Dennis the Menace, Franklin and Rolie Polie Olie.
About NBC Universal
NBC Universal is one of the world's leading media and entertainment companies in the development, production, and marketing of entertainment, news, and information to a global audience. Formed in May
2004 through the combining of NBC and Vivendi Universal Entertainment, NBC Universal owns and operates a valuable portfolio of news and entertainment networks, a premier motion picture company, significant television production operations, a leading television stations group, and world-renowned theme parks. NBC Universal is 80%-owned by General Electric, with 20% controlled by Vivendi.
Cookie Jar Group
The Cookie Jar Group is a Canada-based global children's entertainment and education company dedicated to excellence.  Through Cookie Jar Entertainment, the company is a leader in the creation, production, marketing and licensing of evergreen character brands that appeal to kids and families worldwide.  Cookie Jar Entertainment's library of nearly 6,000 half-hour episodes features some of the world's most recognizable brands, including "Strawberry Shortcake," "Caillou,", "Inspector Gadget," "The Doodlebops," "Arthur" and "Johnny Test".  The company owns non-character based brands for licensing such as Mommy & Me. Through its pan-European subsidiary, the full-service licensing agency Copyright Promotions Licensing Group, Cookie Jar represents numerous third-party iconic brands. Cookie Jar Group also has a one-third interest in international children's television channel Kidsco. Cookie Jar Education, based in Greensboro, North Carolina, is one of North America's largest providers of supplemental education materials, reaching nearly 2,000 teachers across the United States, through the Carson-Dellosa and HighReach Learning brands.
 
About Corus Entertainment Inc.
Corus Entertainment Inc. is a Canadian-based media and entertainment company. Corus is a market leader in specialty television and radio with additional assets in pay television, advertising and digital audio services, television broadcasting, children's book publishing and children's animation. The company's multimedia entertainment brands include YTV, Treehouse, W Network, CosmoTV, VIVA, Movie Central, HBO Canada, Nelvana, Kids Can Press and radio stations including CKNW, CKOI and Q107. Corus creates engaging branded entertainment experiences for its audiences across multiple platforms. A publicly traded company, Corus is listed on the Toronto (CJR.B) and New York (CJR) exchanges. Experience Corus on the web at www.corusent.com <http://www.corusent.com>
About Inspidea Sdn Bhd
INSPIDEA Sdn Bhd is a digital animation company that believes having fun can change the world for the better. Founded in 2002, INSPIDEA creates, produces and distributes original digital animation for the television and mobile industry. Our simple goal on earth is to create entertaining and mostly funny shows that even a goldfish can't forget! Several of our shows are lucky enough to be picked up by TFOU, Cartoon Network, Nickelodeon, AXN, Animax, VRAK, TV12 Kids Central and many other terrestrial TV stations. If the world is our playground, we want to rule it!