Flexible range reduces overall installation costs across all size of building
New York and London, 19 August 2013 – m2fx, the inventors and producers of the world-leading range of patented Miniflex™ fibre cables, today launched its complete, scalable fibre installation solution for Multiple Dwelling Units (MDUs).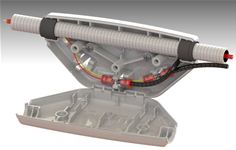 m2fx Breakout Box (BOB)
Comprising a full range of flexible, interchangeable components, the m2fx MDU solution is proven to dramatically lower installation costs by up to 50%, by reducing deployment time, minimising upfront expenditure and de-skilling labour requirements. m2fx's unique, patented design and advanced polymer engineering enables delicate fibre cables to be handled in the same way as more robust copper wiring. This dramatically reduces the time and cost of installations by removing the need for specialist equipment or skills. Deployments can be quickly carried out by general fitters with minimal disruption and no need for on-site splicing, all with no impact on quality. m2fx's Miniflex ultra tough, ultra light cable fits through the smallest gaps and can be pushed through ducts or nailed to walls with no impact on fibre protection.
Consumers around the world are demanding faster connection speeds to access new services such as IPTV and high speed broadband. For operators, deploying these connections cost-effectively and with minimal disruption in large buildings is critical to winning and retaining users.
MDUs are extremely diverse, ranging from small apartment blocks to tall, thin skyscrapers and wide but low residential buildings, with a spread of occupancy types and potentially hundreds of different occupants and rooms. Consequently m2fx has developed a complete, flexible solution that covers the entire deployment from cable interconnection to customer premises. Covering Home Run point to point implementations for small apartment blocks to Pull Back components for larger and wider buildings, it includes risers (vertical cabling) and duct installations, horizontal feeder cables, consumer boxes, cable interconnection boxes and accessories. Products can be supplied pre-connectorised to further lower installation time.
Based on m2fx's patented, protective fibre technology, the range meets the most stringent global health and safety standards (including UL certification) around low smoke and low fire hazard requirements, includes self-extinguishing options and products that can be deployed within plenum ducts. Designed to be installed both internally and externally the MDU solution is proven to withstand in-service temperatures of up to 80° C (176° F).
"The explosion in demand for high speed broadband means that operators around the world are looking to connect subscribers to their fibre networks quickly and cost-effectively," said Tom Carpenter, CEO, m2fx Limited. "Our MDU solution has been developed from the ground up to help speed up deployment, providing the right combination of components for every implementation, backed up by our experience in supporting installations across the globe. Whether it is a 2x2 apartment block, a 100 floor skyscraper or a low but wide hotel, and whatever the density of services uptake or mixture of occupancy, we can bring down deployment costs and time through our advanced polymer engineering, saving operators and installers money while connecting subscribers quickly."
The m2fx MDU solution is made up of the following interchangeable components that suit both Home Run and Pull Back installations:
Miniflex Pull Back Feeder Cable
Developed to cover horizontal corridors, the feeder cable is made of internal grade Low Smoke Zero Halogen (LSZH) plastic, containing a standard 12 x 900u fibres, which can be increased. Typically pre-terminated at one end (where the floor connection box is located), the outside of the cable can be easily cut to enable the Pull Back of the required fibre.
Dwelling Breakout Box (BOB)
Specifically designed to work with the Miniflex feeder cable, the Breakout Box protects the Pull Back zone and provides a neat covering where the fibre enters into the dwelling.
Miniflex Optical Fibre Protection Tube (OFPT)
Lightweight, ultra tough and extremely flexible, Miniflex OFPT is specifically designed to protect fibre, as used in the feeder cable. Available in a range of colours, sizes and materials it can be supplied with an optional 'retro fit' slit for installations with long routes and multiple fibres to accommodate. When used in combination with other components, it provides In Dwelling protection and easy routing, enabling fibre to be pulled back to the correct location.
m2fx Cable
Available with up to 96 fibres, m2fx cable is engineered to give maximum protection combined with toughness and lightness. From low fibre, preterminated QuikPush pushable cable to full plenum and riser cable products, it can be used for both Home Run and Pull Back installations.
Miniflex Indoor Microduct
Enabling the routing of cables and optical fibres within buildings through both risers and feeder cables, the lightweight Miniflex Indoor Microduct is made from a flame retardant, LSZH polymer. Available in plenum grade, it comes with a low-friction & low static DVC™ lining to assist in pulling, blowing and pushing of fibre or cable.
Connector
Mechanical fit connectors, suitable for both Home Run and Pull Back configurations enable the seamless connection of fibres between different MDU components.
Cable Interconnection Box
The full range of Miniflex interconnection boxes includes options for internally configured pre-terminated splitter or fan out assemblies. Splitters come with predefined tails (which act as riser cables) making it easy to linking horizontal cables to vertical risers, reducing on-site time and de-skilling installations. All IP55 rated, the boxes include industry standard couplers and are available as lockable units, both for end of corridor and basement use.
Consumer Box
Designed to take industry standard connectors, a full range of end of route consumer boxes are also available to complete the installation. Ready to plug in optical to electrical convertors, these are small enough to fit neatly within customer premises without impacting aesthetics.
-ends-
About m2fx
m2fx makes hard plastic flexible through its patented grooved design and process, protecting optical fibre in the last 200 metres of an install. Best known for its innovative Miniflex™ protection tube, cable and microduct products, m2fx specialises in tough yet flexible FTTX cable/microduct routing products that are designed to protect fibre yet still be light and ultra flexible to enable fast and efficient installation in the field. Its patented pushable technology dramatically reduces the time and cost of installations by removing the need for specialist equipment and skills, leading to typical savings of 50% compared to traditional methods.
Headquartered in the UK and with global sales operations, m2fx has already manufactured over 20 million metres (67 million feet) of duct and Miniflex cable at its state of the art UK production facility. m2fx products are deployed in telecoms networks, data centres, cars and aircraft in 52 countries across the world.
To find out more follow us on Twitter or visit our website
For more information
Chris Measures
Measures Consulting
+44 7976 535147
chris@measuresconsulting.com