Frisbee Enterprise Server, a global transcription workflow & dictation platform including Speech Understanding™ technology and new mobile Apps with the ability to dictate to the Frisbee Enterprise Server to be presented at conhIT 2012 in Berlin
Baar, Switzerland, April 20, 2012 – me2me AG, a software company delivering mobile dictation, transcription and speech recognition solutions announced today that it will exhibit at conhIT 2012, Berlin, Apr- 24-26 (Booth B-107a, Hall 1.2) where it will present Frisbee Enterprise Server for Healthcare including M*Modal Speech Understanding™, a cloud-based, real-time speech recognition technology now available in German. This will also be the opportunity to demonstrate the newest versions of its App, Frisbee Smart for iPhone and BlackBerry, designed to work seamlessly with the Frisbee Enterprise Server and the M*Modal Speech Understanding technology.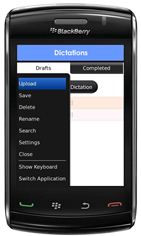 BlackBerry App
The integration of the German language within Frisbee Enterprise follows the technology partnership signed in November 2011 between me2me and M*Modal, which is a leading provider of interactive clinical documentation and Speech and Natural Language Understanding technology in the US, serving more than 900 facilities, with over 150 million minutes of dictation transcribed/year.
"Using Frisbee Enterprise and Frisbee Smart with speech recognition in the cloud, transcription workflow is largely automated from beginning to end" said Peter Hauser CEO of me2me AG. "The Speech Recognition cloud-based technology does not require the physicians to spend time "training" the software or any special hardware, such as servers. This allows us to offer our dictation platform to all size healthcare customers, including single providers".
This powerful speech editing and transcription workflow solution also dramatically improves Medical Transcriptionists' productivity, delivering significant per-line cost savings when compared with traditional transcription as well as opening new growth opportunities for transcriptions agencies by maximizing transcription resources and improving turnaround time.
me2me will also present during conhIT the new version of Frisbee Smart, its app for iPhone and BlackBerry, designed to fit perfectly into the Frisbee Enterprise Server workflow and the M*Modal Speech Understanding technology. Professionals dictate easily thanks to a clear user interface which guides them through the dictation and upload process. The recording is automatically sent to the Frisbee Enterprise Server, where it will be available for manual or speech recognition transcription.
"Many of our Frisbee Enterprise customers were willing to use their iPhone or BlackBerry to record their dictations, especially when they are out of the office, and have them added automatically to a queue of transcriptions" said Milko Jovanoski, CMO of me2me. "The Frisbee Smart interface has been designed with their needs in mind: easy to use, secure and fully integrated within the entire process of clinical documentation."
Additionally, users can prioritize a recording, insert, append, save, rewind, and select a maximum file size and the audio quality, to name a few of the available features. To avoid people accidentally getting access to the audio files, the app can be locked with a PIN number. The interface is available in German, English and French at present time.
About me2me AG
me2me AG is a software company delivering mobile dictation, transcription and speech recognition solutions. The portfolio includes Frisbee Enterprise with Speech Understanding™ which provides functionality that goes beyond traditional speech recognition. The solution enables Healthcare Organizations to efficiently create high quality, meaningful clinical documentation within an intuitive workflow system, at an affordable price and without the need for training of the physician. For more information please visit www.me2me.com.
###
For more information,
Dominique MARTIN-LAGARDETTE
me2me AG
+41 (0) 79 874 92 36
d.martin-lagardette@me2me.com