App to increase productivity, cut hardware costs and integrate EMR systems
Baar, Switzerland, November 7, 2011 – me2me AG, the developers of the Frisbee Transcription Workflow & Dictation Solution with Speech Recognition announced today that they release Frisbee Smart for iPhone®, iPad® and iPod touch®, a new app that turns the smartphone into a digital dictation device, making dictation available to all Frisbee solutions users but also to other professional digital dictation solutions.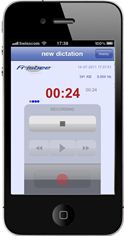 Frisbee Smart Dictation
Frisbee Smart allows physicians, lawyers, experts, journalists and many others whose work requires them to be away from their PCs to enjoy the benefits of an advanced digital dictation workflow solution, even while on the go. me2me's Frisbee Smart app enables users to dictate from any place allowing users to send audio files to be transcribed. Since this app turns the iPhone, iPad or iPod touch into a wireless digital dictation device, users send their dictation to the transcriptionist of their choice or to an FTP server, using one of the multiple data transfer protocols available or a simple WIFI connection.
"Our easy to use functionalities provide professionals the capabilities of using the mobile device the same way they utilized their traditional digital dictation device but also includes a full set of innovative features such as overwriting/inserting dictations; four selectable audio quality, all optimized for speech recognition; voice activation for hands free dictation; Bluetooth™ headset compatibility, allowing free movement; file size control, in order not to exceed the maximum file size of the receiving mailbox; and a range of languages including English, French, German, Spanish, Italian and Russian" said Daniel Hall, CTO of me2me.
In addition, Frisbee Smart app includes features such as:
Lossless compression method

Optional Barcode scanner to allow a barcode to be automatically assigned to the opened dictation

Easy-to-use touch screen controls
Frisbee Smart can also be integrated directly with electronic health record (EHR) systems professionals to dictate directly into the EHR application to increase their own productivity.
"The iPhone has become a mobile business tool for many professionals who want to use it for dictation purposes, in order to avoid carrying multiple devices and to cut costs" said Peter Hauser, CEO of me2me AG. "We are very excited to offer a solution that allows iPhone, iPad and iPod touch users to access a solution that easily integrates with Frisbee, our base dictation workflow system. We are also very proud to announce that Frisbee Smart can be used by any professional who wants to dictate with the iPhone but works with another digital dictation solution. Thanks to the Frisbee Converter, a small piece of software that works in conjunction with Frisbee Smart, audio files can be converted into the correct audio format utilized by other digital dictation software companies".
me2me offers users the ability to try the Frisbee Smart application before purchasing it. The free version of Frisbee Smart can be downloaded from the App Store. The free version is limited to 5 dictations of 30 seconds each. The full version of Frisbee Smart can be purchased at any time from one of me2me 's certified partners.
About me2me AG
me2me AG is a software company delivering productivity solutions for enterprise mobility. The me2me product portfolio helps users to connect to enterprise information and communication systems via easy-to-use mobile applications. The portfolio includes voice based application delivered through mobile devices (cars, cell phones & smart phones) as well as Frisbee, a state-of-the-art dictation and transcription workflow solution used in the legal, healthcare and administration markets. For more information, visit http://www.me2me.com
###
For more information, contact me2me Marketing :
Dominique MARTIN-LAGARDETTE
Marcom Manager
Mobile +41 (0)79 874 92 36
marketing@me2me.com