Membership Cards Now Available at Major Retail Stores Across the United Kingdom and United States
LONDON, UK – May 20th, 2010 – Mind Candy, the UK-based developer of the children's free-to-play online game Moshi Monsters, today announced the widespread launch of their first-ever membership gift card in conjunction with InComm. Initial retail launch partners include major drug, grocery, and specialty retailers including Blockbuster, GameStop, Sainsbury's, WHSmith and more. The new "Game Time" cards will offer consumers one and six-month memberships to the world of Moshi Monsters, one of the fastest growing children's sites in the world with fast approaching 20 million registered players.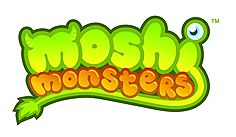 Moshi Monsters Logo
"With the tremendous growth of Moshi Monsters, we want memberships to be more accessible to customers, making it easier than ever for parents and children alike to enjoy the benefits of being a Moshi Monsters member," said Edward Relf, Chief Marketing Officer at Mind Candy. "Offering memberships through retail is a convenient way for players to pay for their membership and give the gift of Moshi Monsters."
"InComm is proud to partner with Mind Candy on the development and distribution of the Moshi Monsters 'Game Time' cards," said Simon Osgood, Director of Product Development for InComm Europe. "Given the success of Moshi Monsters, we are excited to expand beyond the UK internationally through InComm's global retail channels. Moshi Monsters has experienced phenomenal growth and uptake over the past nine months, and InComm is delighted that the 'Game Time' cards have contributed to that growth as well as enhancing our strategy of working with fresh and dynamic digital content partners on a global basis. We look forward to exciting new developments with Mind Candy over the months to come."
With both one and six-month cards available, the Moshi Monsters membership cards are a great way to gain access to all of the membership-only features including lots of fun additional games and content.
Moshi Monsters offers a unique combination of adoptable virtual monsters, social gameplay and fun educational puzzles that appeal to both children and parents. Within the game players choose from one of six monsters to customize and nurture. Once players customize their pet, they then navigate the magical world by solving puzzles that test a variety of skills including basic math, spatial awareness, logic and vocabulary. As players solve puzzles, their pet monsters earn Rox, the in-game currency that can be used to purchase accessories to customize their virtual homes.
For more information on the Moshi Monsters membership cards and where to purchase them, visit http://www.moshimonsters.com/timecard.
For artwork and press materials relating to this press release visit: http://tiny.cc/moshipress.
ABOUT MIND CANDY
Mind Candy is one of the world's fastest growing social online gaming companies and the global developer, operator and publisher of Moshi Monsters. The company was founded in 2004 by Michael Smith, a UK-based entrepreneur who previously founded Firebox.com.
ABOUT MOSHI MONSTERS
Moshi Monsters is the world of adoptable monsters, combining adorable virtual pets with social online gameplay and educational puzzles for children. The puzzles test a variety of skills including basic maths, spatial awareness, logic, counting, anagrams and vocabulary. More than 15 million monsters have been created to date and over two million new players joining each month making Moshi Monsters one of the world's fastest growing children's sites. To date, more than 120 million educational puzzles have been played and over one million virtual items are sold each day! For more information on Moshi Monsters visit www.moshimonsters.com
MIND CANDY ARE HIRING
Are you looking for a new challenge? Are you looking to join a rapidly growing, entrepreneurially spirited, forward thinking creative company? Mind Candy have many exciting vacancies available right now! Fuelled by the phenomenal growth of Moshi Monsters, Mind Candy are seeking candidates across a number of key business and game development areas. For a full list of current vacancies visit www.mindcandy.com/recruitment/ for more details on the range of exciting jobs currently available.
PRESS INFORMATION
Edward Relf
Chief Marketing Officer
Mind Candy
ed@mindcandy.com