Philadelphia Startup LTL PRINTS Launches MOSHI MONSTERS Premium Wall Graphics -- Up to SEVEN FEET TALL!
PHILADELPHIA, PA – May 11, 2010 – LTL PRINTS, the premium wall graphics company, today launched an exclusive collection of Moshi Monsters premium wall graphics, featuring giant Moshi Monsters and Moshlings from the online game that is currently one of the fastest growing children's sites in the world!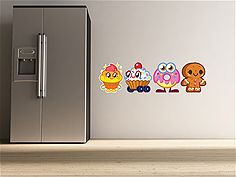 Moshlings
Moshi Monsters, which launched its subscription service just over a year ago, allows children to adopt their own free pet monster to play mini-games, customize their homes, explore the in-game world, and solve educational style puzzles. Mind Candy, the UK-based developer of the children's free-to-play social online game Moshi Monsters, recently announced that it had exceeded 15 million registered players.
"We are excited to be launching this range of themed premium wall graphics in partnership with LTL PRINTS," said Michael Acton Smith, CEO of Mind Candy. "LTL PRINTS offer something unique which we feel brings the world of Moshi Monsters to life."
"Children around the world LOVE Moshi Monsters in the virtual world, and with the launch of Moshi Monster wall graphics, they can now bring their favorite characters to their own walls in the real world," said John Doffing, VP Marketing at LTL PRINTS.
Moshi Monsters premium wall graphics from LTL PRINTS are available in a range of customer-selected sizes (from laptop-sized up to seven feet tall!), are self-adhesive and will stick to almost anything (walls, windows, even ceilings!), and can be removed and re-hung 100 times without leaving a mark or damaging surfaces.
Prices start at $14.95 for laptop-sized graphics (NEW!), to LTL PRINTS' signature 7 foot tall 'larger-than-lifesize' wall graphics, for $149.95.
For more details on the newly launched Moshi Monsters premium wall graphics visit http://www.ltlprints.com/MoshiMonsters
ABOUT MIND CANDY
Mind Candy is one of the world's fastest growing social online gaming companies and the global developer, operator and publisher of Moshi Monsters. The company was founded in 2004 by Michael Smith, a UK-based entrepreneur who previously founded Firebox.com.
ABOUT MOSHI MONSTERS
Moshi Monsters is the world of adoptable monsters, combining adorable virtual pets with social online gameplay and educational puzzles for children. The puzzles test a variety of skills including basic maths, spatial awareness, logic, counting, anagrams and vocabulary. More than 15 million monsters have been created to date and over two million new players joining each month making Moshi Monsters one of the world's fastest growing children's sites. To date, more than 120 million educational puzzles have been played and over one million virtual items are sold each day! For more information on Moshi Monsters visit http://www.moshimonsters.com/
ABOUT LTL PRINTS
LTL PRINTS was founded by entrepreneurs Kendall Schoenrock and Carsten Petzold to bring exclusive custom and branded wall graphics to the world. "We set out to create a platform for creative expression that would bring larger-than-life repositionable wall graphics to empty walls everywhere," according to LTL PRINTS co-founder Kendall Schoenrock. "And we are working with the worlds' premier artists, designers, and brands to literally CREATE a revolutionary new medium."
LTLprints.com launched in December 2008, as a platform that enables anyone to create, buy, and sell large-format repositionable wall graphics. "We believe that state-of-the-art digital printing on cutting-edge new materials should be widely available to consumers globally," according to LTL PRINTS co-founder Carsten Petzold. "So we created a platform to bring gorgeous and affordable giant wall graphics to the world." LTL PRINTS prints all of their products in the United States, and both user-generated and curated content is printed on demand. LTL PRINTS currently powers Premium Wall Graphic Storefronts for partners globally, and is launching additional branded wall graphic catalogs for new partners in the entertainment, sports, fashion, design, retail, and art worlds.
LTL PRINTS is headquartered in Philadelphia, and is privately funded.
PRESS INFORMATION
Edward Relf
Chief Marketing Officer
Mind Candy
ed@mindcandy.com
-ENDS-