Soaring fuel prices have driven nearly nine in every 10 motorists to take action to reduce their fuel consumption, according to research commissioned by Nationwide Autocentres, the Halfords-owned car servicing, maintenance and MOT chain.
Actions being taken include driving more slowly and efficiently (62% of motorists), shopping around for fuel (55%) and reducing the number of journeys taken (50%). Seventeen per cent have gone as far as trading their car in for a more efficient model in the last year, while 3% have even tried alternative fuels such as chip fat.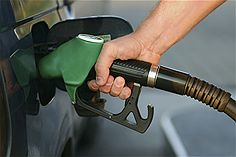 Fuel 1
Overall it's families who appear worst effected, with the 35 – 44 age group most likely to have changed cars or taken other actions. Youngsters, aged 17 – 24, have changed their motoring habits least.
In total, 86% say that are more concerned with fuel prices today than a year ago, while 85% of motorists are taking at least one course of action to reduce their fuel bills.
Fuel prices have risen an unprecedented 30 per cent in the past twelve months. It means that on average each motorist is spending over £300 more on fuel this year. The increase in VAT announced during Tuesday's budget, together with the scheduled fuel duty increases in October and January, will push up prices further. By the New Year, UK motorists could be spending an additional £170 million per month on fuel.
Statistics released by the Department of Energy and Climate Change show that four per cent less fuel was purchased during 2009 than two years previously, supporting the view that rising fuel prices during this period have driven motorists to cut their fuel costs.
Duncan Wilkes, chief executive at Nationwide Autocentres comments: "These are challenging times for motorists and higher pump prices are clearly having an impact. The good news is that drivers can do a lot to reduce their fuel bills.
"Our 5-point plan is a good starting point and regular servicing is also vital. An engine with fresh oil and new filters will run more efficiently than one that has been neglected. We have also launched a new specialised Fuel Service that can make even more significant savings.
"We are working hard to help reduce the cost of motoring."
According to independent surveys, Nationwide Autocentres exclusive Fuel Service can reduce fuel consumption on cars over three years old by as much as 25%. It's a 'spring clean' for engines, flushing out the dirty deposits that restrict the flow of fuel.
Nationwide Autocentres top five tips for cutting fuel bills:
Reduce your speed, accelerate gently and change into a higher gear as soon as possible

Remove any unnecessary accessories, such as roof racks and boxes, and bike carriers.

Inflate tyres to the correct pressure – an underinflated tyre will use around 3% more fuel!

Switch off your aircon and save around 10%

Stick rigidly to service schedules, and if you have an older car, treat it to a Fuel Service to cleanse the engine and flush out the deposits that stop it working efficiently
-ENDS-
Media contacts:
Jeremy Merckel at WAA
0121 362 1637
Jeremy.merckel@waa.co.uk
Cheryl Goddard at WAA
0121 321 1411
cheryl.goddard@waa.co.uk
Notes to editors
Looking at the regional picture, Londoners are least likely to slow down (52%) or shop around (41%), while 82% of drivers in Northern Ireland routinely shop around for better prices. More Welsh drivers (66%) have reduced the number of journeys taken than in any other area.
Research notes
Research completed for Nationwide Autocentres GFK NOP in May 2010. The total sample size was 571 adults. The figures have been weighted and are representative of all UK adults (aged 17+) who are principal drivers.

Calculations are based on an industry recognised average annual mileage of 12,000 miles, in a vehicle consuming fuel at the average rate of 37.8 miles per gallon (source: http://www.fuel-economy.co.uk/stats.shtml). It is estimated that there are 30 million motorists in the UK. Fuel price calculations are based on May 2009 and May 2010 average fuel prices as published at http://www.theaa.com/motoring_advice/fuel/index.html.

The AA estimates that following the planned fuel duty and VAT increases, motorists will be paying an additional ~4.6p per litre from 4 January 2011. It is estimated there are 30 million motorists in the UK.
Nationwide Autocentres Fuel Service
For cars over three years old, Nationwide Autocentres Fuel Service cleans the fuel system and engine which will have become dirty over time, so that the engine burns fuel more efficiently. Independent tests have shown drivers of both petrol and diesel engine cars noting improved fuel consumption.

Two Fuel Services are available:

The nine-point Fuel Service (from £35) includes:
o Emissions check - we test your emissions and how efficiently your car is burning fuel
o Fuel system cleaner - cleans your fuel system to make sure it burns fuel more efficiently
o Tyre pressure - incorrectly inflated tyres waste fuel. We'll ensure they're at the right pressure and check that they are in good condition
o Oil - we check that your engine's oil level is correct
o Coolant - we check that your engine's coolant level is correct
o Brakes - we'll check they're not 'binding' and in turn waste fuel
o Clutch check - that it's functioning properly
o Road test - putting your car to the test on the road to make sure it's working at its best
o Emissions re-check - we'll re-check your car to show you the difference the Fuel Service makes to emissions

The twelve point Fuel Service (from £70) adds the following items to the above:
o Oil system cleaner - a special treatment that cleans the oil system in your engine
o Oil change - brand new oil using Castrol Magnatec 10W 40 part synthetic (*Other oils are available at an additional charge)
o Oil filter change - a brand new oil filter, expertly fitted

If the service does not improve a car's fuel burning efficiency, the customer won't pay anything for their Fuel Service

For further information visit http://www.nationwideautocentres.co.uk/Other-Services/Fuel-Service---shell-out-less-on-fuel/
About Nationwide Autocentres
Web: http://www.nationwideautocentres.com/
Phone: 0800 096 4216
Nationwide Autocentres is the leading independent operator in the car servicing sector, operating 224 centres nationally, providing a range of products including MOTs, car servicing and repairs. The company's approximately 900 skilled mechanics receive regular training and use the latest diagnostic technology and servicing tools.

Nationwide's 500,000 customers each year are a mixture of Fleet (c. 25% of revenues) and Private (c. 75%). Its strategy is to differentiate itself within its market by being the only national operator to provide dealership quality service at lower prices.
On 18 February, Nationwide Autocentres was acquired by Halfords plc. For more information visit http://www.halfordspressoffice.com/Press-Releases/Halfords-Expands-into-Car-Servicing-Repair-via-Nationwide-Acquisition-213.aspx