Myriad J2Android opens up new revenue opportunities for device manufacturers, operators and app stores through access to huge MIDlets back catalogue

Seamless, automated conversion of MIDlet apps boosts premium content and delivers end user experience optimized for Android handsets
DUEBENDORF ZURICH - March 19, 2010: Myriad Group AG (http://www.myriadgroup.com/), a global leader in mobile technology with software in over 2 billion phones, today launched Myriad J2Android, which allows the seamless conversion of MIDlets into Android applications. Phone manufacturers, operators and mobile application stores can now leverage the tens of thousands of MIDlet applications already on the market, creating new revenue opportunities and providing the Android community with access to a variety of rich content.
Utilizing J2Android, phone manufacturers, operators and mobile application stores can rapidly populate their Android storefronts with premium applications from launch, without the need for porting or middleware. As a result, they can deliver end users access to a library of content and a richer user experience on their Android handsets.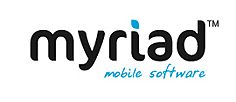 Myriad Logo
Myriad J2Android delivers automatic conversion of compiled MIDlets into Android applications, providing a trouble-free and cost-effective solution. Further software features include adaptive screen scaling and the ability to apply virtual keypads and softkeys, allowing both users and content owners to benefit from full use of the screen estate. This MIDlet to APK approach requires no source code or middleware allowing for seamless discovery and 1-click accessibility.
"As Android devices appear in greater volumes, the challenge has been how quickly the industry can make apps and content available to cope with user demand. One obvious source is the catalog of quality titles already available but locked away in Java format," said Malcolm Dawe, Chief Product Officer of Myriad Group. "Our technology unleashes this content's potential enabling the industry to bring to market premium Android content from day one."
This software is the latest addition to the Myriad's arsenal of Android solutions, offering best-in class solutions from application components to complete device integration. J2Android is fully supported by both the Dalvik engine and Myriad's Dalvik Turbo virtual machine. The latter was launched at Mobile World Congress last month to a very positive reception, as it delivers increased application execution speeds of up to three times and improved battery life on Android handsets.
As a founding member of the Open Handset Alliance (OHA), Myriad has been playing a key role in Android solutions since its early days. When partnering with Myriad for Android application development or porting, operators, OEMs and application store owners benefit from Myriad's rich heritage in Java technology development and unique Android platform expertise.
-Ends-
About Myriad
Myriad Group AG is a global leader in mobile technology and has shipped over 3.2 billion software applications in more than 2 billion mobile phones. Its comprehensive portfolio includes browsers, messaging, Java, social networking, user interfaces and middleware for all types of mobile phones, from ultra-low cost handsets to advanced smartphones.
The company provides both individual components and complete solutions, which enable handset manufacturers and operators to deliver amazing experiences on mobile phones. Myriad also develops USSD-based customer self-care platforms that deliver over 10 billion messages a year to 220 million mobile users across more than 30 mobile operators worldwide.
Myriad was created from the combination of industry leading companies, Esmertec and Purple Labs. It operates worldwide, with offices in Switzerland, France, UK, USA, Mexico, China, South Korea, Taiwan, Japan and Australia. Headquartered in Dübendorf Zürich Switzerland, Myriad is listed on the SIX Swiss Exchange (SIX Symbol: MYRN). For more information, visit http://www.myriadgroup.com/.
Contacts:
Myriad
Kate Hamilton
Marketing Director
Tel: +44 1252 519832
Email: press@myriadgroup.com
Investor Relations
Tel: +41 44 823 8900
Email: investor_relations@myriadgroup.com