Introducing the new ProNav PNN-200
Letchworth, England, 11th December 2008 - Navevo, the UK's leading specialist GPS software developer, has today unveiled its new ProNav PNN-200 sat-nav solution for drivers of heavy goods vehicles and vans. Following on from the successful launch of ProNav, the new ProNav PNN-200 delivers new levels of performance and is now even easier to use thanks to a revised user interface, enhanced Routing-Engine together with free map and transport data updates for new and existing users throughout 2009.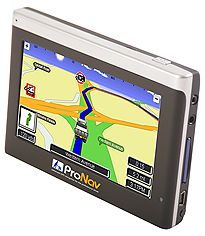 Navevo ProNav PNN-200
ProNav PNN-200 Highlights:
~ Now includes Bluetooth calling, media player, video player and ebook reader
~ Free map and transport upgrade pack for 2009
~ Improved user experience
~ Faster improved routing / re-routing
~ New look interface for improved vehicle data entry
~ Enhanced sound performance
The ProNav PNN-200 allows drivers to enter their vehicles' vital statistics, including weight, height, length, width and the goods they are carrying, to calculate the best route to ensure drivers are not confronted with roads or obstacles not suitable for their vehicle or cargo. During a journey, the ProNav PNN-200 also warns drivers of hazards such as steep hills, high cross winds, and the risk of grounding and can automatically re-route a driver's journey accordingly if deemed necessary. The ProNav PNN-200 is perfect for drivers of HGVs, light commercial vehicles, horse transporters, caravans and more.
Navevo has worked closely with many independent HGV drivers to further enhance its ProNav software. As a result, the new ProNav PNN-200 now has many new improvements and features making it the ideal navigation tool for the professional driver who needs to navigate safely through areas with road height, weight or width limitations.
A new look improved user interface makes it easier than ever to navigate and larger icons simplify data input. Navevo has also made a number of improvements to ProNav's core routing engine ensuring users experience enhanced speed, accuracy and ease of use.  As a result, the ProNav PNN-200 delivers faster map rendering, improved GPS performance and route calculation to provide complete and seamless continuity.
Using NAVTEQ Transport, the ProNav PNN-200 comes with free quarterly map and transport data updates throughout 2009 giving users the peace of mind of having the latest up to date information. Existing ProNav customers can take advantage of the free quarterly map and transport updates as well as update their ProNav with the latest software enhancements free of charge via www.pronav.co.uk.
The ProNav PNN-200 comes with a 4.3 inch touch screen LCD display, built-in Bluetooth for hands free calling, media player, video player and ebook reader for road side entertainment. For clear voice instructions, the ProNav PNN-200 is equipped with an enhanced speaker system, ensuring navigation instructions are loud and clear at all times.
In addition to specialist features such as; dynamic routing and navigation optimisation based on a vehicle's dimensions and legal restriction, a London unloading and parking penalties database and POI data for professional drivers, the ProNav PNN-200 comes complete with street level mapping for the UK and Republic of Ireland, seven digit postcode lookup and a six month free trial of safety camera alerts.
"Customer feedback is a key component in our strategy to remain highly competitive and to ensure we satisfy our customer needs," said David Guiver, Navevo's Sales and Marketing Director. "By working extremely closely with HGV drivers across the UK, we are able to deliver an even more desirable solution for this market and most importantly, are able to offer the software and map enhancements to both new and existing ProNav customers."
For further information about the ProNav PNN-200, please visit www.pronav.co.uk.
Availability
Maplin will be stocking the ProNav PNN-200 in its 147 stores in the UK and Ireland from December 15th 2008 priced at £199.99 including VAT. The system will also be available online at www.maplin.co.uk.
- ENDS –
More information
Members of the press
 
For further information, images, or to request review samples please contact:
Graham Dowall
The PR Room
Tel: 0845 094 2902
graham.dowall@theprroom.co.uk
About Navevo
Navevo offers a full range of navigation solutions and location based plug-ins designed to operate on Windows Mobile hardware platforms including PNDs, PDAs and Smartphones.
Navevo owns and develops all of its navigation software, providing the flexibility to meet market demands, create unique propositions and get them to market quickly.
Our strategy is simple, providing unique software and services that make navigation more useful for everyday life. www.navevo.com