Paris, France. July 19, 2010. Netgem (www.netgem.com) today confirmed its participation at this year's IBC (www.ibc.org) in Amsterdam, where it will showcase its latest technology developments. At the event Netgem will demonstrate the new functionality offered by its hybrid media centre STB range and highlight the new business opportunities offered by upgrades to its home networking functionality. The company will also show the latest enhancements to its NetgemTV middleware platform, including social media integration and a new 3D carousel.
Netgem will also highlight how it is helping operators, through recent customer deployments with Telstra and Monaco Telecom, to use OTT services to supplement their existing broadcast content in a cost effective and scalable way. The company will outline how pay-TV players can position themselves at the centre of the connected home by providing consumers with value-added services, such as home networking and next generation interactivity, that will reduce churn for the long term.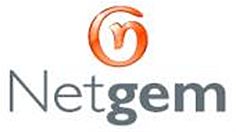 Netgem Logo
Commenting on Netgem's IBC presence Christophe Aulnette, Netgem's Managing Director, said: "Operators recognise that the explosion in web connected devices coming to the market marks a new stage in the development in entertainment consumption and naturally there's a certain amount of trepidation within the sector. We want to assure the pay-TV industry that this presents an opportunity, at Netgem our vision is that advanced TV experiences can now be seamlessly blended with enriched Web 2.0 content, including social media, and new home network functionality within a single branded operator environment."
Netgem will be exhibiting on Stand 405 within the new Connected World in Hall 9.
-Ends-
About Netgem
Netgem enables operators to deliver branded connected entertainment in the digital home, enriching the broadcast TV experience with the power of the Internet. Installed in over 2.5 million homes around the world, Netgem is among the top 10 most deployed Hybrid Set Top Box solutions worldwide. Netgem customers include: SFR, Telstra, Monaco Telecom, Elisa in Finland, Spec-Com for Algeria Telecom, Melita Telecom in Malta and FetchTV in the UK. Netgem is listed on Compartment C of Euronext Paris Eurolist (ISIN code: FR0004154060, Reuters code: ETGM.PA, Bloomberg code: NTG FP 7537). http://www.netgem.com/
Twitter http://www.twitter.com/netgem/
Media contact Netgem:
Andy Riley, AxiCom (for Netgem)
T: +44 20 8392 4073, E: andy.riley@axicom.com
Vanessa Vigar, Netgem Communications
T: +31 6 11 56 22 18, Vanessa.vigar@netgem.com