Peel Media has appointed a new Chief Executive for MediaCityUK.
Sinead Greenaway will arrive in Salford Quays to take the helm of the UK's first purpose-built creative and digital community in the autumn.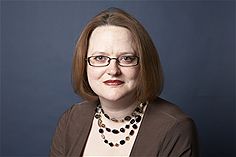 Sinead Greenaway
Sinead joins Peel Media from Virgin Media Television, where she has been Operations and IT Director since 2006. Sinead played a pivotal role in the company's tapeless transformation, a process which has put Virgin at the forefront of end-to-end digital workflow within UK broadcasting.
Having started her career in commercial radio, Sinead has previously held senior roles at Emap PLC and ids (the Virgin Media Television, UKTV and online sales business).
Sinead will report to Bryan Gray, Chairman of Peel Media. He said: "The role of Chief Executive will be central to the successful delivery and management of MediaCityUK and I'm delighted to welcome Sinead to the team.
"Sinead will work closely with a wide range of private and public sector partners to help realise our shared vision for MediaCityUK, both for phase one in 2011, and beyond. Her wide-ranging experience means Sinead will contribute valuable insight and leadership to the organisation, and help shape the future of what is arguably Europe's most significant media development."
Sinead Greenaway said: "MediaCityUK is a hugely exciting proposition and the prospect of playing such a central role in its delivery was too good an opportunity to miss.
"I'm looking forward to working with the rest of the team to create a truly world class media community which will provide the sector with new and innovative ways of working."
Construction of MediaCityUK began in 2007 following the BBC's confirmation that it would be relocating around 2,500 staff – including five departments currently based in London – to Salford Quays. The University of Salford has also confirmed that will have a MediaCityUK presence, with a brand new campus containing facilities for up to 700 students and staff. In addition, Peel Media recently announced a collaboration with Ascent Media Group to provide a range of services at MediaCityUK.
Phase one of MediaCityUK is scheduled for completion in 2011.
ENDS
Notes to Editors:
About MediaCityUK: MediaCityUK is a long-term development for the creative and digital industries situated on a huge waterfront site at Salford Quays, just a few minutes from central Manchester. The first phase, spread over 36 acres, will be completed in 2011 but there is the potential to utilise the entire site of 200 acres over the next decade, depending on demand.
MediaCityUK is being developed and managed by Peel Media, a division of the Peel Group, one of the leading property and transport companies in the UK, with an asset value approaching £7bn. In total, Peel Media's investment in phase one of MediaCityUK will amount to £500 million.       
The BBC will move around 2,500 staff to MediaCityUK from 2011 onwards. This will involve relocating five London-based departments, along with all local and network broadcasting currently operating out of Manchester city centre.
The University of Salford have committed to a new higher education centre at MediaCityUK, which will accommodate more than 700 students and staff.
Northwest Vision and Media– the organisation responsible for leading, promoting and supporting the region's creative and digital industries – is relocating to MediaCityUK in autumn 2009. The agency will occupy a refurbished building opposite The Pie Factory (an existing studio base) on Broadway, opposite the main construction site.
For more information contact Helen Johnson, Communications Manager, Peel Media – (0161) 660 3711 or 07501 728 163.