First Custom "Preps" Shipped
Cambridgeshire, UK, 21 June 2010 – Quotient Bioresearch, a leading provider of early stage and specialist drug development services to pharmaceutical, biotechnology and medical device clients worldwide, today announced that its new, state-of-the-art radiochemistry facility in Cardiff, UK is fully operational and that shipments of radiolabelled products have commenced. All staff have successfully transferred from the former site operated by Amersham Radiolabelling Services to the new facility.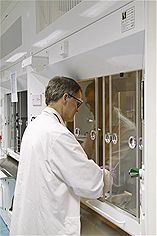 Cardiff Opening
The new facility, located close to Cardiff Bay, represents a significant investment by Quotient and follows the Company's acquisition of Amersham Radiolabelling Services from GE Healthcare in June 2009. The facility has been named "The Old Glassworks", reflecting the origins of the site on which it was built.
The Old Glassworks will produce radiolabelled compounds for its pharmaceutical, biotechnology and agrochemical clients, offering an established bespoke service for the custom synthesis of carbon-14 and tritium labelled compounds. Quotient's capabilities allow it to manufacture custom radiolabelled drugs for use in both pre-clinical and clinical settings.
Quotient offers its clients a unique range of services with world-leadership positions in a number of key disciplines, including custom radiosynthesis services and carbon-14-enabled drug development. With its strong existing client base in Europe, the United States and Japan, Quotient will serve over 250 clients worldwide from The Old Glassworks. Its chemists work closely with the company's metabolism and clinical research groups to deliver clients the most effective solution for their carbon-14 enabled drug development needs, reducing complexity, cost and timelines.
The Old Glassworks has been equipped with world-class technology, operating to the highest environmental and safety standards. It houses the largest and most experienced team of radiosynthesis chemists in the world and brings the total number of Quotient employees to over 600.
Paul Cowan, Chairman & Chief Executive Officer, Quotient, said, "With the opening of the new Cardiff facility, we have made a significant investment to support the product development needs of our pharmaceutical, biotechnology and agrochemicals clients. We have invested significantly in technology that will make the business operate sustainably and allow our expert chemists to efficiently deliver the highest quality products to our clients. With almost one-third of all registered drugs on the market today having been radiolabelled by Quotient chemists, the opening of The Old Glassworks will allow us to continue to expand on this record of success."
Stephen Lewinton, Managing Director, Quotient Chemistry and Metabolism, said: "The new facility demonstrates our commitment to the radiochemicals business and allows us to build on our fully integrated carbon-14-enabled drug development services (including Synthesis-to-ClinicTM). Quotient remains focused on meeting the needs of its clients for cost-effective custom radiosynthesis services."
The last of the chemists transferred to The Old Glassworks as scheduled in early May, as planned. After rigorous safety and emissions testing, The Old Glassworks is now fully operational and the first products have been shipped. An official opening ceremony will be held in September 2010. To learn more about the new facility or Quotient, please call +44 (0)2920 474 900, email info.amersham@quotientbioresearch.com or visit www.quotientbioresearch.com
###
About Quotient Bioresearch
Quotient is a leading provider of early stage and specialist drug development services to pharmaceutical, biotechnology and medical device clients worldwide. The company offers a unique range of drug development services through its three key focus areas – Chemistry & Metabolism, Bioanalytical Sciences and Clinical Services. Quotient has grown rapidly in the past three years, through a combination of both acquisition-led and organic growth. Quotient Bioresearch is part of Quotient Bioresearch Group, which comprises Quotient Bioresearch and HFL Sport Science.
For further information: www.quotientbioresearch.com
For further press information please contact: Sarah Evans - The Scott Partnership, 1 Whiteside, Station Road, Holmes Chapel, Cheshire, CW4 8AA, United Kingdom. Tel: + 44 1477 539 539 Fax: +44 1477 539 540 E-mail: quotient@scottpr.com