High Wycombe, UK, 27 June 2017 International POS printer manufacturer Star Micronics has joined forces with leading POS software provider Nobly POS to provide an mPOS solution that is ideal for coffee shops and mobile food and drink businesses. The complete mPOS solution will be demonstrated by Nobly POS at the Birmingham Coffee Festival (1-2 July 2017, The Custard Factory, Digbeth, Birmingham).
The event brings together a number of independent coffee shops and coffee culture experiences. Visitors to the festival will be able to sample a range of speciality coffee as well as food from around the world.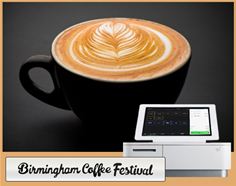 Star Micronics and Nobly POS
The mPOS solution incorporates Star's combined Bluetooth printer and cash drawer solution mPOP™ with an iPad based easy-to-use point of sale system from Nobly POS. The stylish mPOP from Star is ideal for coffee shops and mobile businesses given that it is low cost, lightweight and space-saving at just 10cm high and 30cm wide. As a result, the unit can be securely stored or transported at the end of trading. With front feed receipting, mPOP can easily be placed under the counter for enhanced space-saving.
Working with all major operating systems including Apple iOS, Android and Windows, mPOP provides users with a versatile Bluetooth solution that is ready to work with compatible POS software and a card payment system. Bluetooth connectivity results in only one mains cable being required for full operation while the mPOP LED display will quickly determine pairing status as well as any issues such as paper out, etc. With 4 USB ports, additional tablet, phone, scanner, etc charging is available from the one cable.
With the POPPack option that includes a high quality black or white tablet stand (alternative colours are available if required) and metal plate, users can successfully create a stylish mPOS station. The POPPack design provides a flexible option with the extra security required within a retail environment, whilst retaining the mobile element.
As Sebastiaan Bruinsma, Co-founder, Nobly POS, comments: "Nobly POS is excited to attend the Birmingham Coffee Festival given that our next generation iPad based easy-to-use point of sale system with the mPOP from Star is ideal for coffee shops as well as mobile food and drink vendors. We look forward to having the opportunity to speak to a wide range of independent businesses."
"We are pleased to be working with Nobly POS to provide a cost-effective and flexible mPOS solution that precisely meets the needs of independent businesses across the hospitality sector", adds Annette Tarlton, Marketing Director, Star Micronics EMEA.
About Nobly POS
Founded in 2013, Nobly POS is the #1 rated cloud EPOS system for a modern hospitality operator. The Nobly system is cloud-based which gives merchants the power to change product features in 100 stores at the press of the button. All key data syncs instantly and updates are carried out with ease. Nobly acts as your store's Back Office and can help you run nearly every aspect of your enterprise by handling all the time consuming tasks like inventory management and data analytics quickly and reliably, allowing you to concentrate on the day to day running of your business.
Nobly POS is currently used by hundreds of happy store owners in over 40 countries. Headquartered in London, Nobly also has offices in the United States via a New York City office and has a development centre boasting top engineers in Montevideo, Uruguay.
For more information, visit Nobly Point of Sale
About Star Micronics
Founded in 1947, Star Micronics is one of the world's largest printer manufacturers and has facilities for worldwide production, marketing and support. Employing over 1900 staff and achieving turnover in excess of £250 million, Star Micronics has developed a POS printer portfolio that spans thermal and dot matrix printers and mechanisms, designed for barcode, ticketing, receipts and labelling. Star's proven technology is also being utilised to install print mechanisms in multimedia kiosk environments. The Star Micronics' range is available internationally via a distribution channel comprising distributors and dealers.
-oOo-
For further information, please visit www.Star-EMEA.com or contact:
Annette Tarlton
Marketing Director
Star Micronics EMEA
Tel: +44 (0)1494 471111
Email: Atarlton@Star-EMEA.com
Claire Smith
PR Manager
Star Micronics EMEA
Tel: +44 (0)1494 471111
Email: Csmith@Star-EMEA.com