10th February, 2010 Bracknell, UK - 3M, the diversified technology company, has launched Novec EGC-2702, a surface modifier coating that provides economic and fast protection against moisture and corrosion in electronics manufacture and assembly. A cost-effective high performance alternative to traditional conformal coatings, Novec EGC-2702 can be applied and dried within seven minutes, which is less than a third of the time of leading existing competitive products. It is also non-flammable and is designed to help electronics companies adhere to environmental, health and safety requirements. Please call 0870 6094639 or visit www.3M.co.uk/NovecCoating.
Available exclusively in the UK and Ireland from distributor Acota, Novec EGC-2702 is aimed at electronics environments involving coating of sensitive components, such as circuit boards. Particular target markets include automotive, telecommunications, military and aerospace equipment.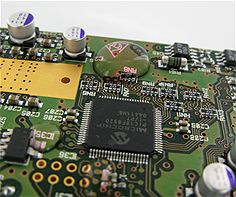 Novec Surface Modifier
Time, labour and cost benefits
Novec EGC-2702 removes the need to mask surface areas - such as connection points - during the coating process, so time, labour and associated costs are substantially reduced. Novec EGC-2702 cures in just 40 minutes, which compares favourably with alternatives – for example acrylic, silicone and urethane-based coatings – which can take from 3 hours to one week to cure. Novec EGC-2702 can be cured at room temperature or with the aid of additional heat.
Once applied, Novec EGC-2702 forms a transparent layer of just one micron, yet is waterproof and repellent against aqueous solutions, oils and synthetic fluids, up to temperatures of 200 degrees Centigrade. In addition, future repairs can be carried out to the electronics component without the need to remove the coating.
Unlike most other coatings available, Novec EGC-2702 is non-flammable, which eliminates the need for electrical equipment used in the drying process to be classified as flameproof or 'intrinsically safe'.
Due to the reduced drying and curing time, the volume of equipment and storage required is a third in comparison to conformal coatings: important in environments where floor space is often limited. This also helps to minimise energy consumption.
Environmental profile
Novec EGC-2702 is a fluoropolymer dissolved in Novec 7200 hydrofluorether (HFE), developed by 3M, which is one of the world leaders in fluoro-based chemistry. Novec EGC-2072 is just one of a range of HFEs supplied by the company as part of its mission to provide manufacturers with speciality fluids designed to reduce the impact on the environment and conform with legislation. Novec EGC-2702 has zero ozone-depleting potential and has a high occupational exposure limit of 200 parts per million (PPM).
Further information
Prospective customers should contact 0870 6094639 or visit www.3M.co.uk/NovecCoating.
END
3M and Novec are trademarks of 3M Company.
About 3M
3M is a $23 billion diversified technology company which, since 1902, has been creating innovative products that help make the world healthier, safer and more productive. Well known 3M brands include Scotch, Post-it, Scotchgard, Thinsulate and Scotch-Brite.
3M employs some 75,000 people worldwide and has operations in more than 60 countries. It produces tens of thousands of innovative products for customers in dozens of diverse markets and its 45 technology platforms touch nearly every aspect of modern life. The company has applied its expertise in RFID (radio frequency identification) technology to map and locate underground utilities; it has used its understanding of the healthcare industry to develop innovations that help the early diagnosis of heart and lung conditions; and its range of pocket projectors are the ultimate presentation devices for business people on the go.
The UK and Ireland is home to one of the largest 3M subsidiaries outside the USA, employing more than 3,500 people across 17 locations, including 10 manufacturing sites. Products manufactured in the UK include coated abrasives, occupational health and environmental safety equipment, adhesive tapes, industrial microbiology products, drug delivery systems, high-performance coatings, secure documents and passport scanners.
Media contacts:
Maxine Ambrose/John Farmer
Ambrose Communications
Tel + 44 (0) 1491 412944
3M@ambrosecomms.co.uk