1 October 2009 – Voice and data network solutions provider O-bit Telecom has launched Purple Networx a true end-to-end VoIP solution for SMBs incorporating its own voice and broadband network and dedicated internet access off its network backbone. This will provide SMBs the opportunity to benefit from free or lower cost calls with no capital outlay or infrastructure requirements.
Purple Networx combines all the networking technology of O-bit Telecom to provide users with the benefits of VoIP including: hosted PBX, single user/residential, SIP terminating service, Wi-Fi, mobile integration, hosted or CPE (customer premises equipment) version, voice quality broadband and a choice from thousands of geographic numbers.  By combining all of O-bit Telecom's networking technologies Purple Networx can boast that it is the only carrier able to provide all the components of a VoIP solution.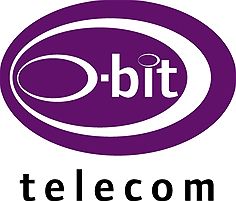 O-bit Telecom logo
"We are offering a solution to our customers which will seamlessly meet their communication requirements," explains Dave Breith, CEO of O-bit Telecom. "By adding this offering to our portfolio we can now provide customers with an alternative to traditional voice telephony and ensure we are flexible enough to meet any of their business communication requirements."
SMBs can benefit from the many features such as lower UK and international call costs, easy to use online interface for administration, free between site calls, free calls to any other Purple Networx businesses as well as being able to keep their own numbers when moving locations.
The Purple Networx IP Switch Network is vendor independent which allows any IP communications device (IP PBX, mobile or softphone) to connect to its network. This allows mobile handsets to seamlessly integrate with the Purple Networx via Wi-Fi allowing mobiles to act as an extention to a desk phone anywhere in the world.
For more information about Purple Networx or its leasing option, Purple Money, please contact O-bit Telecom on 08008 49 49 49 or visit www.purplenetworx.com
-ENDS-
About O-bit Telecom
O-bit Telecom offers businesses a full range of telecoms products and services through a network of resellers and partners. This includes voice services such as SMS, non geographic numbers, conferencing solutions and VoIP. Data services include broadband, hosting, leased lines and VPNs. With its own voice and broadband networks, O-bit can offer dedicated internet access from its network backbone and is at the forefront of the convergence revolution.
O-bit has also developed its own in-house bespoke ERP software which helps to build strong and efficient relationships between O-bit and its partners.
Founded in 2002 by CEO Dave Breith, O-bit Telecom has experienced phenomenal growth, achieving placements in numerous league tables including the Deloitte Fast 50. Based in Loudwater, Buckinghamshire, the company currently employs 40 staff with a turnover in excess of £15million.
O-bit Telecom Media Contacts:
Paul Stallard / Emma Sinclair
Berkeley PR
0118 988 2992
o-bit@berkeleypr.co.uk