Expands Mobile Photography to One of the World's Most Popular Android® Smartphone Brands
London, United Kingdom – September 4th, 2014 – olloclip® (www.olloclip.com), the creator of easy-to-use mobile photography tools, is expanding into Android® mobile device platforms with the introduction of olloclip 4-IN-1 Photo Lenses for the Samsung® Galaxy® S5 and S4.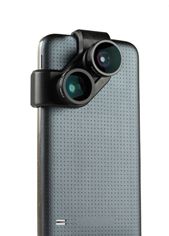 olloclip 4-IN-1 Lens
Whether capturing amusing group shots with friends, tantalizing food photos, or stunning panoramas, the latest olloclip 4-IN-1 Photo Lens lets Samsung Galaxy users expand their mobile photography with four creative options.
Leveraging the phenomenal success of its iPhone flagship product, the olloclip 4-IN-1 Photo Lens systems for the Samsung Galaxy S5 and S4 feature four lenses (fisheye, wide-angle and two macros –10x and 15x) in one small package weighing less than an ounce. The all-new designed exclusively for Galaxy S quick-change lens system is similar to those available with larger DSLR cameras, yet sized to fit in pockets, purses, backpacks and hands, making them the perfect camera accessory that can easily be carried at all times.
Simple, elegant and unobtrusive, the olloclip 4-IN-1 Photo Lens connects to the Samsung Galaxy in seconds. Its patented design slides on and off simply and easily with no extra parts. With the fisheye and wide-angle lenses adjacent to each other, selecting a lens is as simple as shifting the desired lens over the device's camera. The macro lenses are cleverly revealed by unscrewing either the fisheye or wide angle lens.
The olloclip 4-IN-1 Photo Lens works with all photo and video apps, making it easy for Samsung Galaxy users to get exactly the shots and videos they want, whenever they want. Designed in Huntington Beach, California, olloclip photo lenses are crafted with advanced coated glass and multi-element optics and aircraft grade anodized aluminium.
"We're proud to offer a first-class photo lens solution to the millions of Samsung Galaxy Android users to explore new photographic possibilities and forms of artistic expression." said Patrick O'Neill, founder and CEO of olloclip. "The four-lens options are fun to use and make taking pictures with a smart device more enjoyable and rewarding."
Product features/benefits:
Fisheye lens - change perspective with ultra-wide vision capturing approximately 180° field of view
Wide-Angle lens - capture it all with near double the normal field of view
10x Macro lens - get detail oriented with 10X magnification with an 18mm focus distance
15x Macro lens - go for the ultimate close up with 15X magnification with a 12mm focus distance
Colors - black lens with black clip
Size - Galaxy 5 - 2.04 in. H x 2.04 in. W x 1.12 in. D
Galaxy 4 - 1.95 in. H x 1.95 in. W x 1.07 in. D
Weight - less than one ounce
The olloclip 4-IN-1 Photo Lenses for the Samsung Galaxy S5 and S4 are priced at £59.99 and can be purchased at http://www.olloclip.com/ or through major retailers. More information on the full olloclip product line-up of mobile photography tools is available at http://www.olloclip.com/.
About olloclip
The olloclip® brand is synonymous with creativity in one's pocket. With olloclip products, amateur and professional photographers alike can capture and share life experiences, more easily, spontaneously and artistically than ever before. A person's mobile phone becomes a window to the world —and mobile photography and videography enter a whole new realm of possibility. For more information, visit olloclip.com.
olloclip® is a registered trademark of Premier Systems USA, Inc. ©2014 OLLOCLIP® All rights reserved. US Patent No. 8,279,544 | U.S. And Foreign Patents Pending. Samsung Galaxy S is a trademark of Samsung Electronics Co., LTD.
Connect with olloclip
• @olloclip and #olloclip
• Facebook - www.facebook.com/olloclip
• Instagram - http://instagram.com/olloclip
• Twitter - http://twitter.com/olloclip @olloclip
• YouTube http://www.youtube.com/user/olloclip
• Flickr - http://www.flickr.com/groups/olloclip/
DISCLAIMER: The information provided in this press release is deemed to be true at the time of release.
###
Media Contact:
Diana Mitra
Zaboura Consultancy
+44 (0) 2035880804
olloclip@zaboura.com