A range of edge technologies and AI-powered solutions for retail and the supply chain will be on show from Panasonic and Blue Yonder.
Bracknell, UK. 6th March 2023 – With an increasingly competitive retail sector in which supply chain logistics is becoming ever more critical, Panasonic Connect Europe will be demonstrating its wide range of technology solutions for the retail sector at the Retail Technology show in Olympia London on April 26-27th.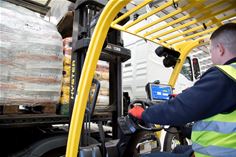 A docked G2 installed on a forklift
Solutions on display will include Electronic Shelf Labels (ESL), rugged mobile computing equipment for warehouse picking and forklift logistics through to supply chain wide AI-powered software from Panasonic company Blue Yonder.
"Retailers are leading the business world in their adoption of technology to improve customer engagement, cut costs, and more effectively manage their supply chains," said Mike Willett, TOUGHBOOK sector lead for Retail, Logistics & Manufacturing, UK&I. "Panasonic has a range of solutions to help retail continue that innovation by embracing the latest in edge technologies and AI. We look forward to discussing with customers how they can use these technologies and tap into our consulting and system integration skills to overcome their latest challenges."
Panasonic Connect and Blue Yonder address the technological challenges facing the retail industry. This includes optimised in-store processes for creating and managing lifecycle pricing, cutting-edge Commerce and Order Management (OMS) microservice solutions, electronic shelf labels that benefit both the customer and frontline worker, and the latest in grocery order fulfilment including smart locker systems.
Panasonic Connect and Blue Yonder will showcase their joint innovative capabilities at their Retail Technology Show stand with several live demos:
• TOUGHBOOK: Test the newest Panasonic Connect TOUGHBOOK models in combination with applications and customised accessories dedicated to making the jobs of warehouse and retail store workforces easier. For rugged mobile computing devices (notebooks, tablets, and handhelds), TOUGHBOOK sets the industry standard, providing devices that are customisable for the needs of mobile workers.
• Commerce and OMS Microservice Solutions: Trying to resolve today's complex retail challenges is more difficult if retailers have siloed capabilities. Blue Yonder's Commerce and Order Management (OMS) microservice solutions redefine how commerce happens – delivering meaningful customer experiences and removing lengthy upgrades and technical obstacles that get in the way of business transformation.
• Electronic Shelf Labels (ESL): Booth visitors can see some of the newest applications for Panasonic Connect's electronic shelf labels. ESL removes the mundane daily task list, allowing frontline workers to focus on the customer and in-store experience while retailers ensure price updates can be made at the touch of a button. With offices all over Europe, Panasonic Connect is a leading installation and service partner for electronic shelf labels.
• Pricing: Determining the right price is key for retailers – especially in today's world of unpredictable demand, market changes, and mounting data. Retailers need the ability to use automated insights to understand what factors influence customer demand, as well as how to use that data to determine their pricing strategies. Blue Yonder's Luminate Pricing Lifecycle, powered by AI/ML, understands the influencing factors and makes optimal pricing decisions across the product lifecycle.
• Temperature-Sensitive Smart Lockers: These lockers are ideal for heated food deliveries or chilled and frozen groceries and can be easily integrated with pick & collect solutions from the web or an app.
Visit Panasonic Connect Europe at the Retail Technology show at Stand 6G30.
Panasonic Press contact:
Megan Mackintosh
The Amber Group
megan@ambergroup.net
(+44) 07538813695
About the Panasonic Group
A global leader in developing innovative technologies and solutions for wide-ranging applications in the consumer electronics, housing, automotive, industry, communications, and energy sectors worldwide, the Panasonic Group switched to an operating company system on April 1, 2022, with Panasonic Holdings Corporation serving as a holding company and eight companies positioned under its umbrella. Founded in 1918, the Group is committed to enhancing the well-being of people and society and conducts its businesses based on founding principles applied to generate new value and offer sustainable solutions for today's world. The Group reported consolidated net sales of Euro 56.40 billion (7,388.8 billion yen) for the year ended March 31, 2022. Devoted to improving the well-being of people, the Panasonic Group is united in providing superior products and services to help you Live Your Best.
To learn more about the Panasonic Group, please visit: https://holdings.panasonic/global/
About Panasonic Connect Europe GmbH
Panasonic Connect Europe began operations on October 1st, 2021, creating a new Business-to-Business focused and agile organisation. With more than 400 employees and led by CEO Hiroyuki Nishiuma, the business aims to contribute to the success of its customers with innovative products and integrated systems and services – all designed to deliver its vision to Change Work, Advance Society and Connect to Tomorrow.

Panasonic Connect Europe is headquartered in Wiesbaden and consists of the following business divisions:

• The Mobile Solutions Business Division helps mobile workers improve productivity with its range of Toughbook rugged notebooks, business tablets and handhelds.
• The Media Entertainment Business Division incorporating Visual System Solutions offers a range of high brightness and reliable projectors as well as high quality displays; and Broadcast & ProAV offers Smart Live Production solutions from an end-to-end portfolio consisting of PTZ and system cameras, camcorders, the Kairos IT/IP platform, switchers and robotic solutions that are widely used for live event capture, sports production, television, and xR studios.
• Business and Industry Solutions delivers tailored technology solutions focused on Retail, Logistics and Manufacturing, using its unique Gemba Process Innovation approach. Its purpose is to increase operational efficiency and enhance customer experience, helping businesses to perform at their best, every day.
• Panasonic Factory Solutions Europe is helping to make smart factories a reality with its wide range of automated solutions including electronics manufacturing solutions, robot and welding systems and software solutions engineering.
For more information please visit: https://eu.connect.panasonic.com
Please visit Panasonic Connect Europe's LinkedIn page: https://www.linkedin.com/company/panasonic-connect-europe/