'Making mobile professionals more effective and productive than ever before'
10th February 2010 - Panasonic has launched the CF-H1 Mobile Assistant to transform day–to-day tasks for utility and field service agents. Working in all weathers and often in cramped conditions, utility and field service engineers face a host of specific work challenges. The Toughbook CF-H1 has been designed with precisely these challenges in mind. With its rugged, ergonomic design, long battery life and anti-reflective daylight view screen, the Toughbook touchscreen tablet is the ideal tool to access applications and data in the most difficult mobile environments. The combination of portability and connectivity improves workflow and productivity in the field, at the point of service.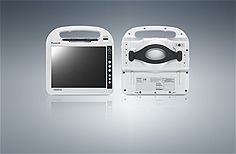 The CF-H1 front and back
The CF-H1 is designed to withstand the rigours of outside, everyday use. The mobile assistant belongs to the Panasonic fully rugged product range and is MIL certified. Capable of withstanding drops and additional harsh working conditions such as vibration, humidity, altitude, temperature extremes and thermal shock, the sealed unit is IP65 compliant for water, rain and dust-resistance.
The Mobile Assistant has also been ergonomically designed with the mobile worker in mind. Operating with Windows 7 and Dual Touch capability, the device is lightweight with an easy-to-grab handle, making it ideal for single-handed operation with modern applications. With its 10 inch daylight reflective screen, information can be seen clearly in any conditions.
Utility and field service agents operate for long periods on the road and their technology needs to perform alongside them - even without access to power sources. As a result, the Toughbook uses the New Intel® AtomTM technology, Intel's lowest-power CPU ever; it also contains a high-capacity 6 hour battery and comes standard with a twin battery design, so that true hot-swap is available in any location to allow the CF-H1 to last an entire shift between recharges.
Used either as a tablet or touchscreen device, the CF-H1 has flexibility at the heart of its design. Optional features include an integrated 2.0MP camera with dual LED light for image capture and an integrated 2D barcode reader for data capture.
To ensure that workers have access to data irrespective of location, the Toughbook comes with wireless LAN, Bluetooth and wireless WAN compliance. GPS is also available as an option. To secure information the Toughbook incorporates the highest-level security features with ease of use. Mobile workers can authenticate to the device via fingerprint, contactless or contact smartcard readers (optional configuration).
Stephen Yeo, Marketing Director, Panasonic Computer Products Europe (PCPE), said, "The Toughbook CF-H1 has been designed specifically with the unique needs of mobile utility and field service agents in mind. They need a device that is easy to use and a powerful companion during their work shift. With this latest Toughbook these mobile professionals can now do more, work faster, stay connected and be more efficient than ever before."
Panasonic Toughbook CF-H1: Select Features and Specifications
CPU

Intel® AtomTM processor Z540 1.86GHz

2nd Cache

512KB L2 cache, 533MHz FSB

Core Logic

Intel® System Controller Hub

Memory

2GB DDR2 SDRAM x1

LCD

10.4" XGA (1024 x 768)

LCD Brightness

500nit

with anti-reflection

Storage

SSD 64GB

Antennas

7 (WLAN x 2, WWAN x 2, Bluetooth, RFID, GPS)

WLAN module

Intel® WiFi Link 5100 (a/b/g/n)

Input method

Dual Touch LCD

Touch Screen and Digitizer

Security (option)

Finger Print Reader, TPM1.2

Bluetooth

V2.1+EDR (Toshiba Stack)

Battery

Li-ion 7.2V, 2900 mAh x 2 packs

Operating time

Approx 6 hours

Dimensions

10.4 x 10.6 x 2.3-1.3"

(264 x 268 x 58-34mm)

Weight

Approx. 3.4 lbs (1.5Kg)

Camera (option)

2.0M Pixels Auto Focus

Dual LED Light

AC Adaptor

Input: 100 V - 240 V AC, 50 Hz/60 Hz, Output: 16 V DC, 3.75 A

RFID Reader (option)

ISO 15693

Contactless Smartcard Reader (option)

ISO 14443 type A/B

Sound

WAVE and MIDI playback, Monaural speaker,


Intel® High Definition Audio Interface 24bit full duplex stereo,

AC97Rev2,3 Compliant

Headphone / Mic

None. BT Headset recommended

Interface

Docking Connector

Handle

Integrated fixed handle

for easy grip / pick up

Strap

Ergonomic Rounded Strap

for comfortable long term use

OS

Windows7 Professional


Downgradable to Windows XP Tablet with SP3

WWAn (Option)

HSPA 7.1 Mbps

GPS (Option)

GPS (WAAS)
END
* * *
Further details on the Panasonic Toughbook range can be found at http://www.toughbook.eu
* * *
About Panasonic
Panasonic Corporation is a worldwide leader in the development and manufacture of electronic products for a wide range of consumer, business, and industrial needs. Based in Osaka, Japan, the company recorded consolidated net sales of 7.77 trillion yen (US$78.4 billion) for the year ended March 31, 2009. The company's shares are listed on the Tokyo, Osaka, Nagoya and New York (NYSE: PC) stock exchanges. For more information on the company and the Panasonic brand, visit the company's website at http://panasonic.net/.
UK Media Contact:
Paul Smith
The Amber Group
Tel: +44 (0)7770 828525
Paul@ambergroup.net