Gordon Brown has a lot of ground to make up with Britain's 30 million online social network users when he stands up to make his keynote speech at Labour conference this week. That's the key finding of a comprehensive new audit of the Prime Minister's online reputation carried out by social media agency Yomego.
With David Cameron's reputation in the world of twitter, facebook and the blogging community ranked 20 points higher than his nearest adversary, Gordon Brown's headline appearance at his party's annual conference in Brighton presents a critical opportunity for the Prime Minister to improve his social media reputation as the general election campaign begins in earnest.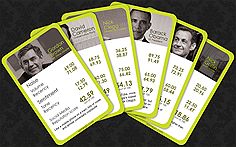 Political SMR 'cards'
Out of a possible 100, the Prime Minister scored a disappointing 42.59 in the audit which measures the volume and newness of social media 'noise' and whether it is positive or negative. In Mr Brown's case there was lots of noise but opinion was almost universally unenthusiastic with his 'sentiment' score lower than that achieved by British National Party leader Nick Griffin.
Meanwhile, Conservative Party Leader David Cameron rated a score of 62.49, with the level of noise on social networks achieving similar volume and recency to the PM, but the overall sentiment rating more than three times better than his Labour counterpart.
The audit also reveals that both party leaders have much to learn from other world leaders, with US President Barack Obama scoring 77.79 and French Premier Nicolas Sarkozy achieving 66.15. Liberal Democrat, Nick Clegg scored a respectable 54.13, but was let down by a low noise rating. On YouTube, for instance, more people have watched Susan Boyle's lowest rated video than have watched Nick Clegg's entire video library.
The Social Media Reputation (SMR) audit is the first measurement system to be devised which combines quantity and quality, with insight, in this way. It has been developed by Yomego to demonstrate the importance of managing social media reputation in a strategic and proactive way and will be officially launched at mipcom 2009, the annual International Film and Programme Market for Television, Video, Cable and Satellite in Cannes (5th – 9th October).
Using the latest automated natural language technology, the audit involves analysing a combination of noise and sentiment relating to a chosen brand, organisation or individual on major social spaces such as Facebook, Bebo, Myspace, twitter and YouTube alongside other social spaces containing blogs, comments, ratings, reviews and other user-generated content.
The result is a total score out of 100, representing an average of the level and freshness of noise generated and the nature and recency of sentiment behind what's being expressed. A geographical bias can also be applied as appropriate for those subjects targeting particular territories. To provide additional context for the results, the score is presented alongside comparison scores for the subject's nearest competitors.
As well as focusing on politicians, Yomego has undertaken an indepth SMR audit of brands across a range of sectors, generating some eye-opening results. The agency has packaged the findings into a set of 'Top Trump'-style cards with the aim of illustrating how important it is for brands to manage their social media reputation proactively.
Steve Richards, Managing Director of Yomego, commented:
"The audits we've carried out so far have underlined how important it is for brands, organisations and individuals to actively manage noise and sentiment around them on the wide range of social networks out there. The noise around your brand may be deafening but if that noise is overwhelmingly negative, its reputation will suffer real damage. Conversely, if positive sentiment about your brand is drowned out by your competitors, you won't see the benefits.
"For politicians, with nearly 30 million people in the UK alone regularly using a social network, social media reputation is an important barometer for measuring whether their message is getting through and how it's being received. That's particularly true as we enter the party conference season and all parties start gearing up for a general election next year.
"The US Presidential elections were probably the first in the world where social media became a mainstream campaigning tool that had a material impact on the outcome. Obama's strong SMR score underlines how well he and his team have managed his online reputation. Over the next 9 months or so, UK party leaders will need to do the same. When it comes to social media, David Cameron currently has the upper hand. It'll be interesting to see whether Gordon Brown can start to turn this around using this week's keynote speech as a platform."
- Ends -
Notes to Editor
Yomego is a social media agency with the strategic insight and design capability to bring together user generated content, virtual worlds, digital personalisation and instant messaging to create truly interactive web communities. Working with broadcasters, brand and media owners and their agencies Yomego's client list  includes MTV, Viacom, Entertainment Rights, Five, GMTV, CSC Media, Dennis Publishing, Ladbrokes and ITV.
Yomego is part of the DA Group. www.yomego.com
For more information, please contact:
Alex Bruce or Elizabeth Lambley
Tel. 0131 554 1230 / 07967 374 330 / 07866 604 393
Email: alexbruce@indigopr.com / lizzylambley@indigopr.com