WHSmith.co.uk to sell diaries and organisers for busy mums
London, October 29th, 2008 – Buying MUM's Office products has never been easier as the full range of organisers designed for busy mums is now available online at WHSmith.co.uk. All you need to do to buy MUM's Diary, the new FAMILY Address Book, the Big FAMILY Diary or MUM's Weekly Calendar is go online to http://www.whsmith.co.uk/CatalogAndSearch/ProductDetails-Mums+Diary+2009-33580814.html.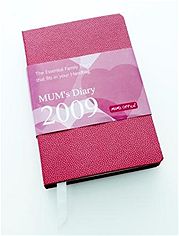 MUM's Diary with cover
New for 2009, the FAMILY Address Book is an all-in-one address book and birthday book. Traditional address books are often short on space when it comes to storing information about your friends' families, neglecting to provide space for important information like children's names and birthdays. The FAMILY Address Book neatly solves that problem and is ideal for people who know a lot of families.
MUM's Diary is a small, compact hardback diary that is a great accessory for any handbag! The diary is designed with a unique grid format providing room for the plans of up to four other family members, helping mum to plan the activities. MUM's Diary also includes sections where you can record important information for all the family.
"MUM's Office products are designed to help busy mums manage their hectic lives. Making them available through WHSmith.co.uk is another way to do that," said Emma Fletcher, Founder of MUM's Office. "We hope that by being so readily available through WHSmith.co.uk it will be even easier for husbands and children to buy mum that perfect Christmas present and more mums will benefit from the range of products we have on offer."
WHSmith is one of the UK's largest retailers, employing over 17,000 people. As well as WHSmith.co.uk, the company has 548 high street stores and 433 travel outlets. Every year, WHSmith sells over 40 million books. WHSmith.co.uk was launched in 1998.
MUM's Office products are also availble at www.mumsoffice.co.uk. The full range of products includes:
The FAMILY Address Book – £12.99 (new for 2009)
Designed for people who know lots of families, the FAMILY Address Book has plenty of room for you to include the children's names, everyone's birthdays, as well as the address for each entry.
MUM's Diary – £14.99
Perfect for busy mums, this chic, pink 2009 diary is a great accessory for any handbag! The diary is a paperback sized, hard-back, with indispensable sections for all family members.
 
The BIG Family Diary – £12.99
The BIG Family Diary has the same grid format as MUM's Diary, but is a little bigger (19cm by 24cm), to allow dads, nannies, carers and the kids to be involved. It has sections designed for the whole family to use, with space for up to six family members.
MUM's Weekly Calendar – £9.99
This stylish, A4 calendar is ideal to hang on the kitchen wall, outlining the schedules of up to six family members. You can record standard weekly routines and they unfold to be viewed in parallel to the current week view. It also comes complete with pages for need-to-know numbers, dates to remember and a forward planner for 2009.
MUM's Shopping List – £5.99
A perfect gift from the kids, this A5 notepad enables you to create a meal plan for the whole week, alongside a shopping list that can be easily torn off along the perforations.
- ends -
About MUM's Office
MUM's Office was conceived by Emma Fletcher, a mother of four children living in London. With the arrival of her third baby she felt that something had to be done to reduce the chaos in organising her family's schedule.
Emma's ordinary diary had been designed for one user, and couldn't accommodate nap times, school runs, after school activities and birthday parties, not to mention her own schedule and that of her husband. MUM's Diary was born…
MUM's Diary, MUM's Weekly Calendar and The BIG Family Diary help busy mums to easily synchronise all family plans, by showing the whole family's schedule on a single page.
 
MUM's Office was listed in The Independent's list of 'The Ten Best Diaries' for 2007 and 2008. Following the success of MUM's Diary and MUM's Calendar in 2007, MUM's Office launched The BIG Family Diary and MUM's Shopping List in 2008 and The FAMILY Address Book is new for 2009.
All products can be purchased online at www.mumsoffice.co.uk. They are also available at Fenwick Brent Cross and numerous independent retailers throughout the UK.
Customer Feedback
"MUM's Office is perfect for busy mums. I have MUM's Diary and MUM's Calendar and find them indispensable for organising everybody's week!"
Sonia Nesbitt (wife of the actor James Nesbitt)
 
"MUM's Diary is I think the most useful thing I have ever come across...... I may actually be organised about my children next year!"
Helen Watson, Banker at Morgan Stanley
"You will never know how thrilled I was to find a calendar with 6 columns! We families of parents and four children are not that unheard of!  So thank you." 
Alison Potton (mother of 4 from Marlow)
Press Contacts
For more information, to arrange an interview with Emma Fletcher, or to request sample products, please contact Patrick Smith at patrick.smith@joshuapr.com or 07734 600553.