6th May, 2009, Bracknell, UK - 3M, the diversified technology company, has launched Protective Packaging, the world's first one-piece thermoformed packaging system that eliminates the need for other packaging parts to protect electronics items.   Protective Packaging from 3M has both economic and environmental benefits, as it can reduce pack volume by up to 50 per cent, while cutting storage and transport costs too.    Protective Packaging has its own inbuilt impact absorption and can be made from 100 per cent recycled materials.  Please call 0870 6094639 or visit www.3M.co.uk/ProtectivePackaging.
Protective Packaging is designed for 'fragility packaging' applications, ranging from memory cards and hard disk drives through to TVs and laptops.  Already being trialled by customers in the UK, this new product range can be fully customised and is available in two main closure options:  Clamshell and Box. The latter is expected to be particularly attractive to the electronics industry due to its ease of use and the level of impact absorption its design provides.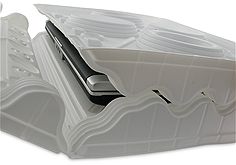 Protective Packaging - Box
The 'one click to close' mechanism incorporated into Protective Packaging – Box is secure and makes it quick and easy to use. Impact absorption is provided by interlocking bellows and buffers, eliminating the need for additional internal packaging materials or an external carton to hold the pack together. 
Should the product be dropped, then Protective Packaging will not only absorb the impact, it will also revert to its original shape.  According to independent testing by TUV Product Services, when a 15" laptop housed in Protective Packaging - Box was dropped from a height of 3 feet onto a concrete surface, the 'g' force experienced over 10 consecutive drops was less than 50 per cent of the 'g' force at which the product is expected to survive.
Says Adrian Hyner, General Sales and Marketing Manager for 3M's Electro & Communications division, "Protective Packaging from 3M is an exciting addition to our existing range of packaging and component handling solutions for the electronics industry and it builds on our position as one of the world leaders in flexible and secure packaging for electronics.  For instance, 3M invented static shielding bag technology, used to protect electronic products during transit. Protective Packaging puts us at the forefront of innovative packaging solutions." 
Protective Packaging from 3M also aims to reduce environmental impact, by substituting the need for additional packing materials such as foam, expanded polystyrene, bubble wrap or loose fill, thus helping to minimise potential waste and assembly costs.  As well as reducing the volume per individual product pack, Protective Packaging 'nests',  thus requiring less space for storage and transportation.
Protective Packaging from 3M can help companies to adhere to government guidelines and legislation concerning packaging sustainability, as well as satisfy customer demand for more environmentally responsible packaging. Protective Packaging can be manufactured from a wide variety of thermoplastic sheet material, including recycled material, and when high density polyethylene (HDPE) is used, it supports 100 per cent recycling.   It can also be designed for packaging re-use. 
Protective Packaging has been developed for a range of applications: clean-room semiconductor and component packaging; semi finished goods and assemblies;  and end user products including hand held devices, laptops, screens, disk drives, cameras and white goods.
Further information
Prospective customers should contact 0870 6094639 or visit www.3M.co.uk/ProtectivePackaging 
END
3M is a trademark of 3M Company.
Media contacts:
Maxine Ambrose/John Farmer
Ambrose Communications
Tel + 44 (0) 1491 412944
Maxineambrose@ambrosecomms.co.uk
About 3M – practical and ingenious solutions that help our customers succeed
3M is a $25.3 billion diversified technology company which, since 1902, has been creating innovative products that help make the world healthier, safer and more productive. Well known 3M brands include Scotch, Post-it, Scotchgard, Thinsulate and Scotch-Brite.
3M employs some 79,000 people worldwide and has operations in more than 60 countries. It produces thousands of innovative products for customers in dozens of diverse markets and its 45 technology platforms touch nearly every aspect of modern life - the company has applied its expertise in RFID technology to deliver biometric passports; it is using its understanding of the healthcare industry to provide hospitals with infection prevention and detection solutions; and in 2008 it launched the world's first hand-held micro projector, the MPro110.
The UK and Ireland is home to one of the largest 3M subsidiaries outside the USA, employing more than 3,500 people across 16 locations, including 12 manufacturing sites.
Products manufactured in the UK include coated abrasives, occupational health and environmental safety equipment, adhesive tapes, industrial microbiology products, drug delivery systems, high-performance coatings, secure documents and passport scanners.