JOHN AND EDWARD GRIMES are odds-on at 5-6 with Betfair customers to be in the bottom two of X Factor this weekend, with only Lloyd Daniels seemingly able to rescue them from elimination in round six.
The Irish twins, who were sensationally saved by Simon Cowell last Sunday, are the second favourites to be axed at 12-5, and a head-to-head clash with Welshman Daniels seems a near certainty, with Cheryl Cole's protégé the front runner to leave the show at odds of 6-4.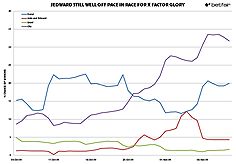 X FACTOR LATEST ODDS JEDWARD IN TOUGH FIGHT
Aside from Jamie Archer at 5-1, it would appear that the other contestants can relax this week, although the likes of Danyl Johnson (12-1) and Stacey Solomon (24-1) would be wise to bear in mind that last week's victim Lucie Jones went into Sunday night's show at a safe-looking price of 17-1.
Olly Murs remains the favourite to win the show at 11-5, although his slick dance moves and cheeky attitude will need to continue to be at their best if he's to hold off the stern challenge of Joe McElderry who, at 4-1, continues to be many punters' pick of the bunch.
Betfair spokesman Ari Last said: Last week's drama and the uproar that ensued will ensure that should Jedward be in the bottom two again, the pressure on the judges to vote them off will be incredibly intense. Our customers seem quite sure that another Jedward sing off is in the pipeline, although the boys are nothing if not resilient, so don't be too surprised if they live to fight another week."
The X Factor Round 6 Elimination – Betfair bet: 6-4 Lloyd Daniels, 12-5 John & Edward, 5-1 Jamie Archer, 12-1 Danyl Johnson, 24-1 Stacey Solomon, 29-1 Joe McElderry, Olly Murs 50-1
The X Factor 2009 Winner – Betfair bet: 11-5 Olly Murs, 4-1 Joe McElderry, 4-1 Danyl Johnson, 5-1 Stacey Solomon, 14-1 Jamie Archer, 22-1 John & Edward, 65-1 Lloyd Daniels
About Betfair: (www.betfair.com)
Betfair is the world's biggest online betting community and pioneered the first successful betting exchange in 2000. Driven by cutting-edge technology, Betfair enables customers to choose their own odds and bet even after the event has started. The company now processes over six million transactions a day from its two million registered customers around the world. In addition to sports betting, Betfair offers a portfolio of innovative products including casino, exchange games and poker.
Betfair has twice been named the UK's 'Company of the Year' by the Confederation of British Industry and has won two prestigious Queen's Awards for Enterprise, being recognised for Innovation in 2003 and most recently for International Trade in 2008.
Betfair currently employs over 1,500 people, principally in London, Malta and Tasmania. The company is a licensed betting operator in the UK, and holds licenses in Australia, Germany, Austria, Italy and Malta.
For further information:
Ari Last
Tel: +44 (0)208 834 6336