72% of all businesses never review their sales presentations
Warwickshire, United Kingdom, 27th August 2009 - Eyeful Presentations, a leading international presentation consultancy, has called for companies to invest more time and effort in the development of their corporate presentations to avoid "The Presentation Paradox".  The term "Presentation Paradox" explains the mismatch between potential upside of a well received presentation versus the amount of time invested in the creation, refinement and rehearsal of such a presentation.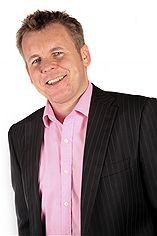 Simon Morton
"The impact of the "Presentation Paradox" on businesses can be devastating!" Simon Morton, Eyeful's Managing Director explains, "It can range from lost business and revenue through to a speedy erosion of a companies hard earned market position".
In the survey, Eyeful found that the majority of businesses were guilty of a lack of investment in their presentation collateral particularly their sales presentation.  With over 30 million presentations estimated to be given every day across the globe (1), the survey revealed 46% of companies considered PowerPoint as their most important sales tools yet a staggering 72% of all businesses did not regularly review their presentations.
"In short, businesses are leaving their most valuable sales tool unchecked and open to abuse" added Morton, "This laissez faire approach would not be allowed to happen with other sales collateral so we're appalled that business critical presentations are suffering such a fate!"
In the last 5 years, Eyeful Presentations has transformed the way companies use and view PowerPoint presentations through their "Presentation Optimisation" process.  Their customer base includes blue chip clients like Microsoft, Adobe, Eli Lilly and Unilever managed from their offices in the UK and US.
For further information, Eyeful Presentations have published a white paper examining the impact of "The Presentation Paradox" on businesses.  This document can be requested via a dedicated website: www.presentationparadox.com 
(1) Microsoft Corporation
About the Survey
A sample of 100 companies in the UK, ranging in size from 1 to 1000 employees, were surveyed.  The survey asked them to outline how PowerPoint was used in their sales process as well as being queried as to how often the material was maintained or reviewed.  Further information is available on this survey upon request.
About Eyeful Presentations – http://www.eyefulpresentations.co.uk
In the Spring of 2003, Simon Morton founded Eyeful to provide presentation services to businesses looking to improve the way they share information with their most important audiences – their prospects, customers, employees & shareholders. 
The company firmly believes that key to their success is their unique approach of addressing the entire presentation process through their "Presentation Optimisation" methodology.  This holistic approach ensures that clients' presentations are made more effective, not just "prettier".
Their work varies from high impact conference decks through to interactive credentials and pitch presentations – all created in PowerPoint to ensure complete flexibility and control by the client.  This approach of "open source" presentation development mixed with ground breaking design means that Eyeful now boasts an impressive client base including major corporations like Microsoft, Adobe, Eli Lilly and Unilever.
Press Contact
Joanne Eames
Tel : +44 (0)118 9321841
jeames@eyefulpresentations.co.uk