New UK regional "neobank" to implement Fusion Essence in the cloud to power end-to-end digital banking
London, UK, July 24, 2019: Finastra announced today that revverbank, a Manchester-based new bank for regional businesses and savers in the UK, has selected Fusion Essence in the cloud to power its end-to-end core banking capabilities. The solution will support revverbank as it launches its services to SMEs and retail savers in the UK, giving it maximum scalability and flexibility to grow its business.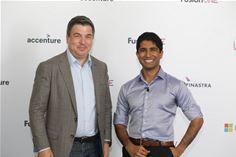 Simon Paris, CEO of Finastra and Arpan Gautam, Founder & CEO at revverbank at the recent FusionONE developer conference in London
Arpan Gautam, Founder & CEO of revverbank said, "We're trying, in our own small way, to address one of the largest issues facing our economy by ensuring access to capital and resources for businesses to grow, invest and develop in the regions. SME businesses in the UK regions have historically struggled to find a lender amongst the traditional banks that can meet all their needs in terms of agility, speed of decision making and product relevance. Similarly, savers have often found it hard to place their funds in a bank which promotes regional economic development and provides competitive rates. Finastra's Fusion Essence in the cloud solution will give us the ability to serve customers personally and efficiently, allowing us to focus on regional lending relationships and great saving rates. Our proposition will be underpinned by Microsoft's Azure platform, which gives us comfort that our content is in secure hands."
revverbank values the modern, open and digital end-to-end capabilities and scalability of the Finastra solution, and the benefits of the Microsoft Azure trusted and secure cloud platform. Finastra's approach means the solution is highly scalable, allowing the bank to benefit from a low cost of entry, ease and speed of deployment, and the ability to increase business volumes and diversify its product set cost-effectively, while also benefiting from ongoing software updates. In time, revverbank will also be able to benefit from further innovation via FusionFabric.cloud, Finastra's platform for open innovation.
Anand Subbaraman, General Manager, Retail Banking at Finastra said, "As a new entrant in the UK business banking sector, revverbank has spotted an opportunity to harness digital technologies and a lower-cost operating model. This helps set it apart from more traditional banks by offering the type of services and speed of response that SMEs really want. Fusion Essence in the cloud is ideally suited to the needs of this market, which means revverbank can achieve a speedy return on investment and will be continuously supported by highly experienced teams at both Finastra and Microsoft. This is a breakthrough deal in the UK market for Finastra's Retail Banking Cloud offering and we look forward to working closely with the revverbank team as they prepare for launch."
Richard Peers, Senior Director Worldwide Financial Services at Microsoft said, "For "neobanks", the core business model is centered around their customers. By choosing Fusion Essence, powered by Microsoft Azure, revverbank demonstrates that they are focused on offering a first-class customer experience, delivering new services at speed and handling data in a secure and compliant way. We're delighted to be joining Finastra in welcoming this first "neobank" on Fusion Essence core banking platform and look forward to many more."
-ENDS-
Notes to editors:
Accompanying photo shows (left to right): Simon Paris, CEO of Finastra and Arpan Gautam, Founder & CEO at revverbank at the recent FusionONE developer conference in London.
For further information please contact:
CAROLINE DUFF
Global Head of PR
T +44 (0)20 3320 5892
E caroline.duff@finastra.com
finastra.com
HARRIET PICKERING
PR Specialist EMEA
T +44 (0)20 3320 5317
E harriet.pickering@finastra.com
finastra.com
About Finastra
Finastra unlocks the potential of people and businesses in finance, creating a platform for open innovation. Formed in 2017 by the combination of Misys and D+H, we provide the broadest portfolio of financial services software in the world today—spanning retail banking, transaction banking, lending, and treasury and capital markets. Our solutions enable customers to deploy mission critical technology on premises or in the cloud. Our scale and geographical reach means that we can serve customers effectively, regardless of their size or geographic location—from global financial institutions, to community banks and credit unions. Through our open, secure and reliable solutions, customers are empowered to accelerate growth, optimize cost, mitigate risk and continually evolve to meet the changing needs of their customers. 90 of the world's top 100 banks use Finastra technology.
Please visit finastra.com.
Corporate headquarters
4 Kingdom Street
Paddington
London W2 6BD
United Kingdom
T +44 20 3320 5000