"Staying Lean" describes one company's journey to lean – overcoming institutional hurdles to make Lean thinking a permanent pathway to future growth
15 October 2009: Increasing profitability and eliminating waste isn't easy -- and it's even more difficult to do on a sustainable basis if you haven't built Lean Thinking into all of your organisation's values and processes.  Consultants from S A Partners, Europe's longest established Lean Enterprise consultancy, and researchers from Cardiff University have received a Shingo Prize for their newest title – Staying Lean: Thriving, Not Just Surviving.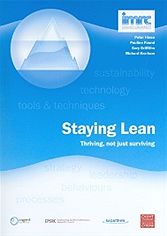 Staying Lean
Using Cogent Power's Lean journey to illustrate the path to success, and potential pitfalls along the way, the book tells the story of how the multi-national manufacturing organisation successfully implemented and sustained Lean Enterprise operational improvements to help turn around the group's financial performance.  The book is based around the Lean Iceberg Model of sustainable change and addresses the often invisible, and hard to copy, enabling elements of successful Lean management.
Known as the "Nobel Prize of Manufacturing," the Shingo Prize is an award administered by the Jon M. Huntsman School of Business at Utah State University to recognise organisations and research projects from around the globe that promote awareness of Lean concepts and achieve world-class operational excellence status. 
 
The first entirely European project to receive a Shingo Prize for excellence in Lean research, Staying Lean was co-authored by three S A Partners consultants - Chairman Professor Peter Hines, and Managing Consultants Richard Harrison and Gary Griffiths - and Dr. Pauline Found, a senior researcher at Cardiff University's Innovative Manufacturing Research Centre.
Peter comments on the insights Staying Lean can offer businesses interested in creating a sustainable culture of continuous improvement: "Despite often promising early results, the research shows that at least 50% of business improvement programmes are deemed to fail over the longer term and up to 70% fail to achieve all of their intended benefits.  We wrote Staying Lean to illustrate how without improving the 'below the waterline' company culture and behaviours, no amount of Lean tools and techniques will be able to achieve sustainable performance improvements."
"Cogent's story is a surprisingly common one – which I see play itself out across a variety of industries and disciplines.  In Staying Lean, we address the often invisible, and hard to copy, elements common to all successful Lean organisations: Strategy and Alignment, Leadership, Behaviour and Engagement."
Staying Lean is a practical workbook to help business managers consider all the elements they need to address when implementing lean thinking in their organisations.
Key topics (available to publish as excerpts) include:
• Going Lean and Staying Lean
• Strategy and Alignment
• Lean Leadership
• Behaviour and Engagement
• Route to Lean
Peter Hines concludes: "We wrote Staying Lean to guide managers along their lean journey, so lean becomes embedded throughout the organisation - sustaining the performance improvements over the long-term.  As Cogent's story demonstrates, achieving sustainable lean processes is the only way to outperform low-cost economies, and position your company to compete in a global marketplace."
Published by Cardiff University's Lean Enterprise Research Centre, Staying Lean is available through S A Partners' website at: http://www.sapartners.com/content/view/107/95/lang,/. Please quote promotional code RLW09 for the discounted price of £10.
To help Lean practitioners learn more about the topics covered in Staying Lean, S A Partners' is hosting a series of Staying Lean workshops across the UK and Ireland.  The next one-day workshop will take place on 1st December near Crewe.  More details can be found at: http://www.sapartners.com/content/blogsection/4/83/lang,/
For a review copy, contact:
Say Communications
Sue Glanville (sglanville@saycomms.co.uk)
T: 0208 971 6423
or
Maita Soukup (msoukup@saycomms.co.uk)
T: 0208 971 6411
About S A Partners
S A Partners is Europe's longest established Lean Enterprise consultancy, and is known globally for challenging, coaching and supporting a wide range of businesses to achieve performance improvements through the application of Lean Principles.  It works across industries and disciplines to develop and deliver effective business processes and lean management behaviours to improve organisations and their people. www.sapartners.com
About Cogent Power
Cogent Power, as featured in Staying Lean, is a global supplier of electrical steels, transformer cores and components.  Part of the Tata Steel Group, Cogent has recently been honoured with an Association of Manufacturing Excellence award for its progress towards enterprise excellence through continuous improvement.  www.cogent-power.com