SeaChange Brings Systems Integration Expertise, Middleware, On-Demand Systems, and Subscriber Applications to India
LONDON (June 17, 2009) – Smart Digivision and SeaChange International (Nasdaq: SEAC) have been honored for their consumer service innovation on the breakthrough MyWay IPTV service at this year's Global Telecoms Business Innovation Awards.  Rolling out across India with a world-class offering of on-demand and personal television applications, Smart Digivision's MyWay takes full advantage of SeaChange middleware, digital video systems and professional services.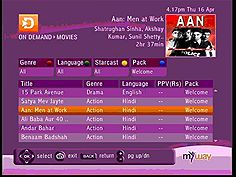 MyWay subscriber interfaces as developed on SeaChange's TV Navigator middleware
MyWay's "Consumer Service Innovation" award was presented during Global Telecoms Business Magazine's ceremony held yesterday at the Sheraton Park Lane Hotel in London to recognize innovative projects by telecom operators and service providers from around the world.  Guests included chief executive officers, chief technology officers and others from Europe, China, Africa, India, Russia, North and South America, and the Pacific. 
By taking advantage of SeaChange's TV Navigator middleware, electronic program guide, video-on-demand systems and set top box applications, SmartDigivision aims to bring MyWay IPTV to over three million subscribers throughout India on broadband networks of telco operators BSNL and MTNL.  As the principal integrator, SeaChange is orchestrating the rollout of MyWay, which will encompass pause live TV; convergence services for integrated email; an on-demand library of DVDs, music and games; and over 150 broadcast TV channels.
"Smart Digivision is very proud to bring global recognition to India's advancing media industry," said Kapil Dev Kumar, COO, Smart Digivision.  "We've embarked on an effort to develop a service that includes the depth and variety that is on par with the world's best.  We anticipate that we will continue to help strengthen the outlook for the digital television market here."
Hundreds of nominations for the industry's innovative projects were received from the readers of Global Telecoms Business since early in 2009.  The winners represent the most innovative projects in the industry worldwide in five key categories including fixed network infrastructure, wireless network infrastructure, wholesale service, business service, and consumer service.
 
"We were impressed by the quality and number of nominations this year – the most we have ever had – so it was a special triumph to be one of the winners this year," said Alan Burkitt-Gray, editor, Global Telecoms Business.  "This was an outstanding project and well deserves its award."
At present, SNL Kagan calls Asia Pacific the world's third-largest "IPTV economy" after North America and Western Europe.  The research firm forecasts that the region's IPTV subscriber base will grow to 20 million by 2012, a 29.9% compound annual growth rate, and that service revenues will rise to $3.1 billion by 2012.
"SeaChange is thrilled to be in another strategic partnership that's garnering global attention for further progressing digital television," said Lincoln Owens, director of broadband, Asia Pacific, SeaChange.
SeaChange is exhibiting at CommunicAsia2009 (Stand 4K3-05) in Singapore this week, with demonstrations of the MyWay IPTV service.  In addition to IPTV middleware, video-on-demand servers and software, subscriber applications, and integration, telcos around the world are building IPTV businesses with SeaChange content acquisition services and solutions for advertising, broadcasting and mobile video-on-demand.  SeaChange VOD and IPTV customers are among the world's best known telco brands including KDDI, NTT-East, NTT-COM/ODTV, TMNet and others across Asia.
Television companies have been on-air with SeaChange solutions for more than 10 years in India.  The company is dedicated to supporting the special requirements for traditional television operations and applying its unique resources towards developing IPTV, on-demand and other emergent forms of television in the market.  SeaChange's India team has offices in Mumbai and Delhi and leverages SeaChange support and product development facilities across Asia.
About Global Telecoms Business
Global Telecoms Business magazine, which is read by the industry leaders in the telecommunications industry worldwide, was founded 15 years ago. The magazine is part of the Euromoney Institutional Investor PLC group. A full report of this year's Awards will be published in the July-August 2009 issue of Global Telecoms Business.
About SeaChange International
SeaChange International, Inc. is a world leader in digital video systems, spanning broadcast and broadband. Its powerful server and software systems enable television operators to provide new On Demand services and to gain greater efficiencies in advertising and content delivery. With its Emmy-winning MediaCluster® technology, thousands of SeaChange systems are helping broadband, broadcast and satellite television companies to streamline operations, expand services and increase revenues. SeaChange is headquartered in Acton, Massachusetts and has product development, support and sales offices throughout the world. Visit www.schange.com.
###
Contact:
Jim Sheehan
1-978-897-0100 x3064
jim.sheehan@schange.com   
Jessica Culshaw
BCSPR
+44 (0) 115 9486901
jessica@bcspr.co.uk