Besides Prototypes, Customers Use Machines to Make Production Parts and Manufacturing Tools
FRANKFURT, 26 February 2009 — Recognising the growing market strength of its high-end FDM systems, Stratasys (NASDAQ: SSYS) today announces that it is branding the product group as FORTUS™ 3D Production Systems. The company has seen solid revenue growth for these high-end systems and a growing percentage of the business going to direct digital manufacturing applications compared to traditional rapid prototyping.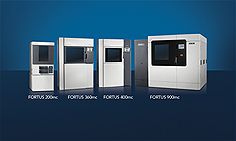 Fortus 3D Production systems
"Rapid prototyping still remains our customers' largest application," says Fortus vice president of international sales and marketing, Woody Frost, "but direct digital manufacturing (DDM) has become the fastest growing revenue source at Stratasys – even faster than 3D printing.
"Since Stratasys introduced Dimension and RedEye as individual brands several years ago, there has been some confusion about the identity of our flagship product line. Informally, it has been called the FDM Group or the High-End Systems line. By branding this line as Fortus, we aim to give it a distinct and powerful brand name. Because our reputation was built on our part strength, we created a word based on the Latin word for strength."
Direct digital manufacturing (DDM) refers to the ability to make working parts directly from 3D CAD files. The market has been growing as manufacturers seek faster and less expensive alternatives to traditional methods of production for short-runs of end-use parts or manufacturing tools (used in the production of other goods).
Wohlers Associates, a consulting firm focused on rapid product development, estimated that the market for direct digital manufacturing over the past five years grew from about 4 percent to nearly 15 percent of the additive fabrication market. In 2008, Fortus system revenues from DDM applications were more than double that percentage at about 35 percent. DDM is believed to be a $170 million market, according to Wohlers Associates.
"We have customers using direct digital manufacturing to produce jigs, fixtures and other manufacturing tools in less than a quarter of the time and at a fraction of the price of traditional processes," says Frost. "It's not surprising that direct digital manufacturing has become an important growth market for our high-end systems. In today's business environment for manufacturing companies, the return on investment from Fortus systems for low-volume manufacturing is simply too compelling to ignore."
The Fortus product line comprises four systems with build envelopes ranging from 12.585 litres to more than 508 litres. All can produce parts from production-grade thermoplastics, direct from CAD files, making them effective for either precision prototyping or direct digital manufacturing applications.
Fortus 3D Production Systems joins Stratasys' other brands Dimension 3D printers and RedEye On Demand, the company's part manufacturing service. As Stratasys announced in December, a select group of Dimension resellers are now also reselling the Fortus product line.
As part of this rebranding initiative, a new Stratasys corporate Web site has replaced the previous one. Now the three Stratasys brands are prominently featured on the corporate site's home page, and their Web sites can be accessed directly from this page.
Fortus is a brand of Stratasys, Inc. Formerly known as the FDM Group, Fortus offers a line of 3D production systems used for direct digital manufacturing and precision rapid prototyping. Fortus systems create manufactured goods and prototypes from industrial thermoplastics, including ABS plastic, polycarbonate, PPSF, blends, and ULTEM* 9085. On the Web: www.Fortus.com
Stratasys, Inc., Minneapolis, manufactures additive fabrication machines for prototyping and manufacturing plastic parts. The company also operates a service for part prototyping and production. According to Wohlers Report 2008, Stratasys supplied 44 percent of all additive fabrication systems installed worldwide in 2007, making it the unit market leader for the sixth consecutive year. Stratasys patented and owns the process known as FDM.® The process creates functional prototypes and manufactured goods directly from any 3D CAD program, using high-performance industrial thermoplastics. The company holds more than 180 granted or pending additive fabrication patents globally. Stratasys products are used in the aerospace, defense, automotive, medical, business & industrial equipment, education, architecture, and consumer-product industries. On the Web: www.Stratasys.com
*ULTEM is a trademark of SABIC Innovative Plastics IP BV.
Fortus, Dimension, RedEye, and RedEye On Demand, are trademarks, and FDM and Stratasys are registered trademarks, of Stratasys Incorporated.
# # #
Forward Looking Statements
All statements herein that are not historical facts or that include such words as "expects", "anticipates", "projects", "estimates", "vision", "planning" or "believes" or similar words constitute forward-looking statements covered by the safe harbor protection of the Private Securities Litigation Reform Act of 1995.  Except for the historical information herein, the matters discussed in this news release are forward-looking statements that involve risks and uncertainties.  These include statements regarding projected revenue and income in future quarters; the size of the 3D printing market; our objectives for the marketing and sale of our DimensionTM 3D printers and our FortusTM 3D production systems, particularly for use in direct digital manufacturing (DDM); the demand for our proprietary consumables; the expansion of our paid parts service; and our beliefs with respect to the growth in the demand for our products.  Other risks and uncertainties that may affect our business include our ability to penetrate the 3D printing market; our ability to maintain the growth rates experienced in this and preceding quarters; our ability to introduce, produce and market new materials, such as ABS-Plus and ABS-M30, and the market acceptance of these and other materials; the impact of competitive products and pricing; our timely development of new products and materials and market acceptance of those products and materials; the success of our recent R&D initiative to expand the DDM capabilities of our core FDM technology; and the success of our RedEyeOnDemandTM  and other paid parts services. Actual results may differ from those expressed or implied in our forward-looking statements. These statements represent beliefs and expectations only as of the date they were made. We may elect to update forward-looking statements, but we expressly disclaim any obligation to do so, even if our beliefs and expectations change. In addition to the statements described above, such forward-looking statements include the risks and uncertainties described more fully in our reports filed or to be filed with the Securities and Exchange Commission, including our annual reports on Form 10-K and quarterly reports on Form 10-Q
Attention Editors: If you wish to publish reader-contact information, please use: europe@stratasys.com; Telephone: +49 (0)69 420 9943 0, Fax: +49 (0)69 420 9943 33, www.stratasys.com.
For more information please contact:
Lisa Henshaw
Fourth Day PR
+44 (0)20 7403 4411
lisa@fourthday.co.uk